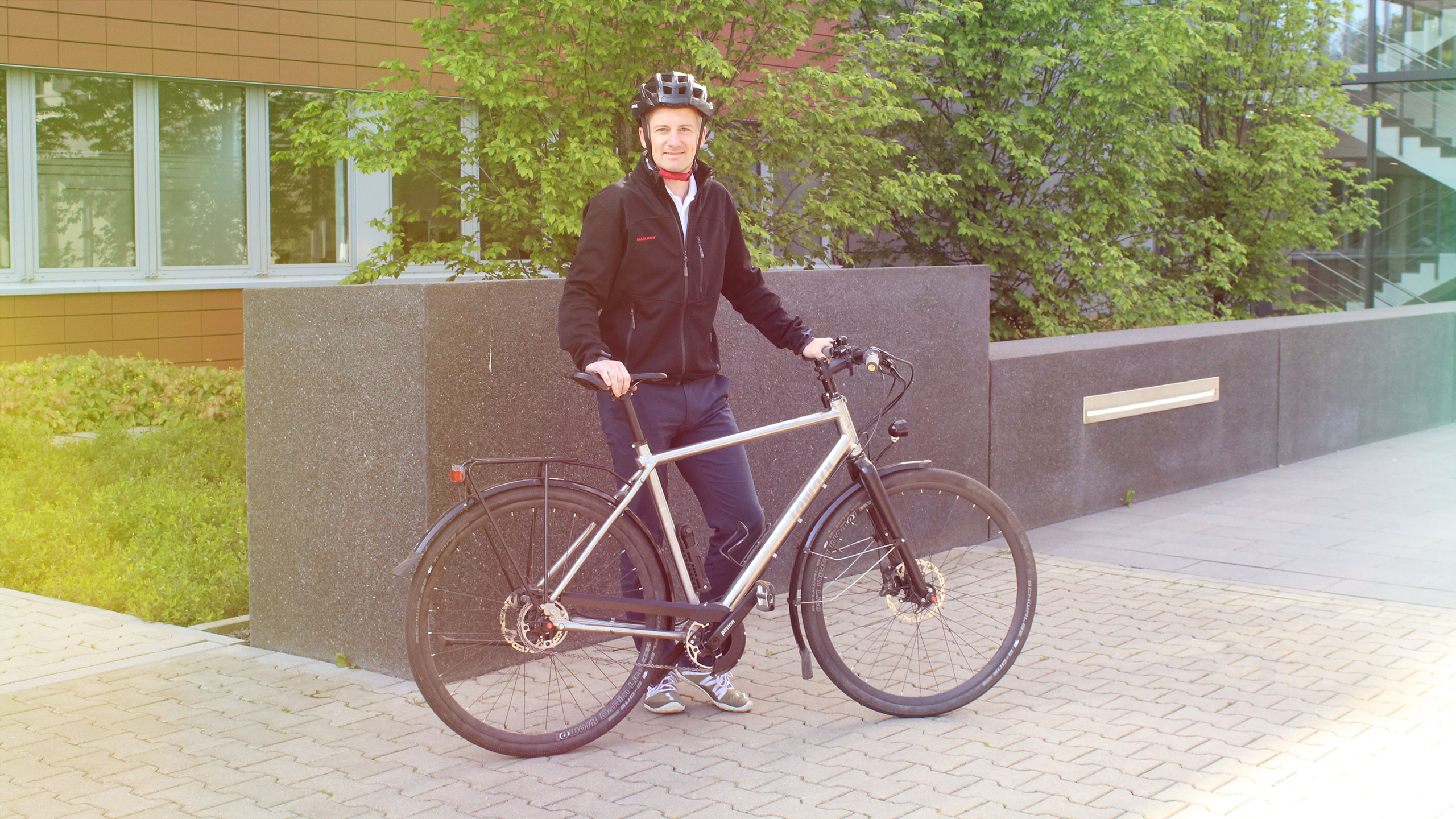 "You can clear your head – while doing something for the environment"
ALDI SOUTH offers its employees a bicycle leasing model. More and more cycling enthusiasts are opting for this environmentally friendly means of getting to the office. So does Dave, Managing Director International IT, who is taking full advantage of this offer.
Dave, you ride your bike to work every day. What do you like about cycling?
Dave: I think it's important to be active and stay fit. Sports and exercise are a form of relaxation for me – on the bike I can clear my head. I can also cover longer distances comfortably.
What routes do you ride on your bike?
Dave: I cycle to and from work every day and also use my bike for the routes between the different ALDI SOUTH work sites.
What kind of bike do you have?
Dave: I lease a trekking bike through JobRad, a supplier which cooperates with ALDI SOUTH. My bike rides very well and in a test for trekking bikes it took first place, partly because of its total weight. It really is amazingly light!
What is your experience with the leasing model so far?
Dave: It is a very affordable way to get a bike. If the bicycle is used for work purposes, such as for commuting to work, ALDI SOUTH will cover the costs of a service and repair package as well as comprehensive insurance. For this purpose, only a non-cash benefit is taxable, which makes the model even more appealing.
In your opinion, what are the best reasons for choosing the bike over the car?
Dave: For one, cycling is good for the environment. I personally also want to set a positive example for my children. As I said, it is important for me to be active. Besides, cycling often doesn't take much longer than driving a car. I would even say that the net time for the same distance by bike is almost the same, as you save yourself the trouble of finding a parking space.
Do you have a tip for those who want to cycle to work in the future?
Dave: It helps me to keep track of the distance covered so I can see what I have achieved. But there is no reason to put yourself under pressure and use the bike every day or be overly ambitious. I can recommend making a date with colleagues to go cycling together. And always have a waterproof jacket with you so that the weather doesn't become an obstacle.
In the past, you have also used the mobile bicycle repair shop offered by ALDI SOUTH. What did you like about it?
Dave: It's an uncomplicated way to have minor repairs done on your bike and to even save time during the annual inspection. You bring your bike in the morning and it is ready to be picked up at noon. Another nice thing is that this service is not only intended for JobRad users, it is also offered to all other cycling enthusiasts working at ALDI SOUTH.
Today, the term "bicycle-friendly company" is often heard. What makes a company bicycle-friendly in your opinion?
Dave: A bicycle-friendly employer should support cycling in every way. This includes offering sufficient bicycle racks at all work sites and perhaps a small bicycle repair service. If there is no mandatory dress code for wearing suits, you don't have to change as soon as you get to work. I think ALDI SOUTH IT is already making great progress in this area. We have already made a good start with the bicycle leasing model and the mobile bicycle workshop, and we won't stop there.
Thank you very much for the insights into your everyday cycling life. We wish you a safe journey in future!