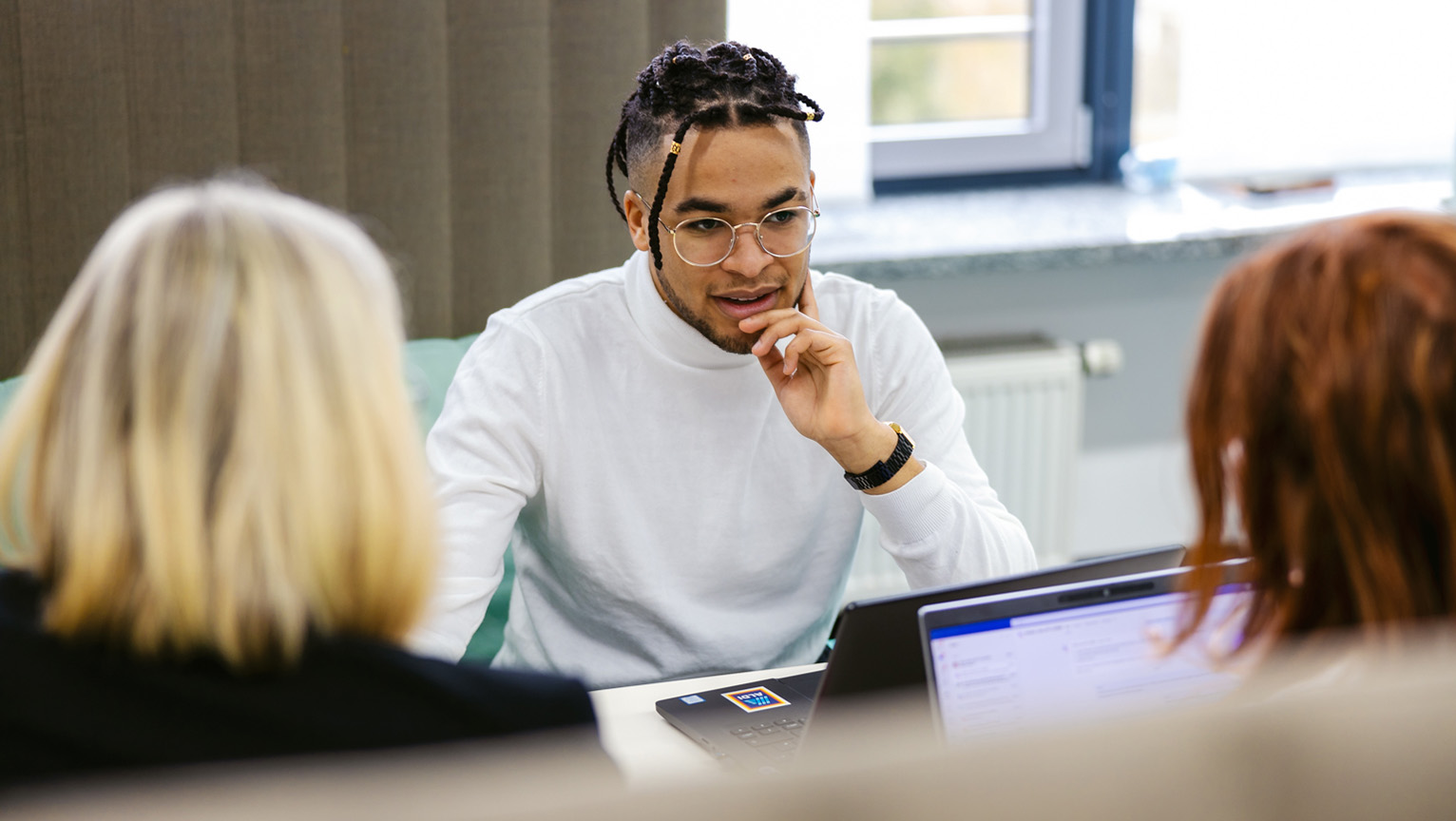 Why IT stands for "Inclusion" and empowering diverse "Talent" - not only for "Information Technology"
Football stadiums in rainbow colours. Black lives matter. #HeForShe. Surely, you have heard of any of these movements. In recent years, the media has intensely highlighted the topic of Diversity & Inclusion (D&I). Yet, it is more than a flashy statement or hashtag, it is about implementing D&I strategies into companies such as ALDI SOUTH.
Numerous studies have clearly demonstrated the strategic and economic advantages diversity bears. For the company and especially for each individual.
A diverse workforce facilitates a multitude of perspectives and ideas resulting in innovation and smarter decision-making.
In an organisation where people feel included, substantial improvements in performance, engagement, and satisfaction are measured.
Companies with a well-functioning D&I strategy are more attractive employers.
Therefore, D&I is not just a trend or a "nice-to-have" – it's a value-adding business case that creates a competitive advantage in the war for IT talent.
What does "diversity" and "inclusion" mean?
Simply said: "diversity" refers to differences among people. Differences can occur on varying dimensions such as age, ethnicity and nationality, gender, religion and worldview, sexual orientation, social background and many more.
While diversity merely describes factual differences, "inclusion" refers to the effort of welcoming and incorporating people - regardless of those differences. Such efforts are in the responsibility of an organisation, but the efforts also reside in the responsibility of every individual, their thinking patterns, and behaviours. It is a group effort and a group win. Because only when people feel that they belong, everyone involved actually gets to harness the fruits of diversity.
But why is inclusion so hard?
While humans are inarguably social beings, we are not necessarily the most inclusive ones. In our need for belonging to a group, we tend to show negative reactions to others outside of this group – this is what is being referred to as "in-/out-group-thinking".
Our brain has one central goal: help us make meaning of the world and keep us alive by predicting what might happen. For this, our brain analyses our surroundings, finds differences and similarities, and recognises what is known or foreign. However, the processing of this information is very biased.
To illustrate it:
An ideal Artificial Intelligence (AI) makes predictions by statistically analysing a robust data set; our brains subjectively process inconsistent, one-sided and oftentimes false information derived from our memory. And as we know from the GIGO-principle: garbage data results in garbage output. (Disclaimer: The quality of an AI also largely depends on its architect and can reflect the architect's biases.)
Thus, "(unconscious) biases" are systematic cognitive errors impairing our decision-making and impartial judgement - most of the time unconsciously. In fact, about 90% of our decision-making is unconscious.
In your job environment, biases affect leadership and personnel decisions, collaboration, hiring, promotion and succession decisions, and many more. In companies lacking diversity and inclusive structures, personal and unconscious biases hold even more power over important business decisions.
Therefore, creating awareness around unconscious bias needs to be a central part of a sustainable D&I strategy.
Best Practice ALDI SOUTH IT: Diversity strengthens the whole business
Using ALDI SOUTH as example of an innovative employer, they follow a global D&I strategy in all countries with local implementation to conform with local needs and circumstances.
ALDI SOUTH IT has an above-average women quota of above 33% while the overall German IT industry still remains strongly male-dominated (average women quota: 16.6%). They employ more than 50 nationalities with 23% of employees being non-German. However, ALDI SOUTH is strongly committed to further diversify its workforce and invest into creating a truly inclusive workplace. To make it official, ALDI SOUTH also signed the German Charta of Diversity in 2021.
By many measures the company puts a strong emphasis on raising awareness and providing learning experiences to collectively learn about D&I and unconscious bias. Such as:
intercultural trainings and team buildings
e-learning
1:1 intercultural coaching for leaders
regular knowledge nuggets on the intranet
a diversity week with keynote speakers
Further, they support the creation of diverse communities in the workforce for which Yammer is provided as an internal social business network. Fair pay has always been natural to ALDI SOUTH as employees always receive the same wage as others in the same position. Furthermore, they introduced a new mobile working agreement allowing for high flexibility and self-organisation.
New IT career paths also strengthen the D&I agenda because they do not solely include management paths but also include a project and an expert path with considerably less personnel responsibility and more emphasis on professional expertise.
To employers truly committed to D&I, it is vital that the D&I approach is not just an empty PR stunt. Instead, it is about continuously trying to emphasise the link between D&I and the business and implementing concrete actions.