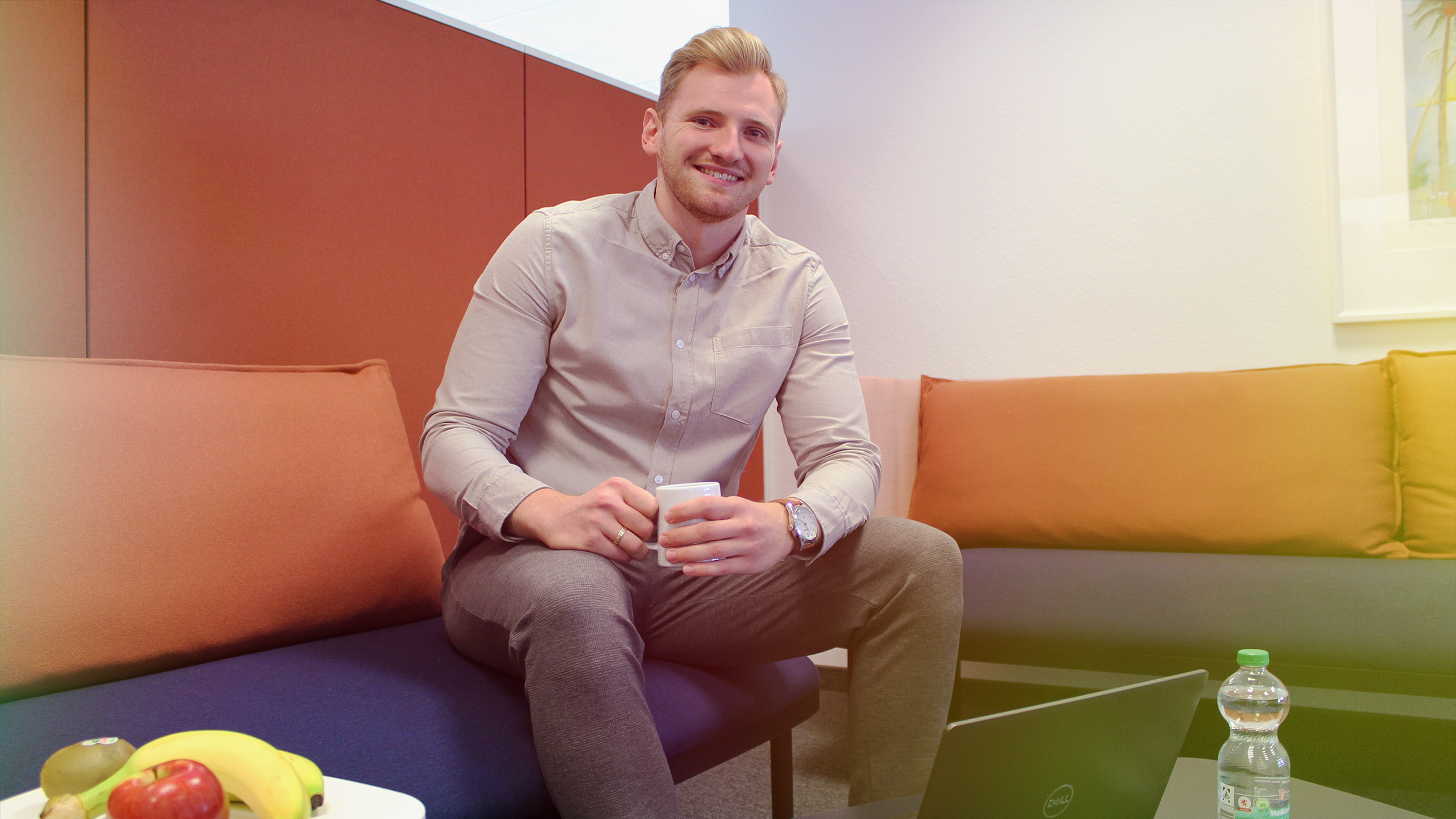 Dual IT study programme at ALDI SOUTH – about Wladi's experiences
Acquiring important theoretical knowledge in study and gaining practical professional experience at the same time - the combination of theory and practice is very much appreciated today. Wladi, dual student at ALDI SOUTH IT, also likes this combination.
What exactly are you studying and what degree are you aiming for?
Wladi: I have been studying e-commerce at the public "Hochschule Ruhr-West" (HRW) university of applied sciences in Mülheim an der Ruhr since the winter semester 2020/21. I aim to achieve a Bachelor of Science. As a dual work/study student, all the other students I study with are full-time students – with the difference that I only attend three modules per semester instead of five and then attend the remaining two in the following semesters. This extends the standard term of study from seven semesters for full-time students to nine semesters for dual work/study students.
Why do you work at ALDI SOUTH IT? What made you apply for a job at ALDI SOUTH in general and how did you become aware of ALDI SOUTH IT in particular?
Wladi: Before starting the dual work/study programme, I had already completed an apprenticeship as an information technology management assistant at a large German steel manufacturer (January 2020) and, already during my apprenticeship, I pondered the question of what I would actually like to do afterwards. I could have either stayed in the same company and worked in the profession I learned, or I could have continued my education. As you can see, I opted for the latter.
I have been interested in the e-commerce degree programme at HRW for quite some time. Then, by chance, I discovered a position for a dual work/study programme in e-commerce in collaboration with ALDI SOUTH, right at HRW. At that time, ALDI SOUTH was the only company in the entire region offering this dual work/study programme. And so I applied and was delighted to be accepted so quickly.
How did you find the application process? How have you been accepted within the company?
Wladi: After the application, I first had to undergo an interview with two employees from HR. All applicants deemed to be convincing during this interview, were subsequently invited to a second interview, in which they were introduced to a Director, who provided deeper insights into the activities of the respective departments. The whole process was quick, transparent, straightforward and very understanding.
Describe your current job and the requirements you need to meet. What is the key challenge?
Wladi: I am currently supporting a Scrum Master in our team and am being diligently introduced to the responsibility of independently leading a team as a Scrum Master. In addition to organising Scrum sessions, such as Sprint Planning, Stand-up, Retrospective and so on, I also support the onboarding process for new employees so that they have as pleasant a welcome at ALDI SOUTH as I did.
For me, the language aspect was actually a little challenging at first. Because, as you might expect in international IT, we work with colleagues all over the world. And that means nearly all conversations take place in English. I was not used to that before. But with time you get used to it – learning by doing, so to speak. The weekly English lesson organised by ALDI helped me a lot.
How do you combine your job with your studies?
Wladi: Since we are on a dual work/study programme, our semester plans are designed precisely to achieve a good balance. In concrete terms, this means that we have no lectures at university on at least two days a week, but use the time for our job. Personally, I like this change during the week. It is also very interesting to be able to combine the theory we learn in the degree programme directly with practice at ALDI SOUTH. Of course, it gets a bit stressful when you have to prepare for exams. But here too, with proper time management and a certain understanding on the part of your employer, you'll be able to manage everything.
What are the advantages of a dual work/study programme?
Wladi: On the one hand, it is of course advantageous that you gain equal amounts of theory and practice. On the other hand, I think it's very valuable that dual work/study students have a company at their side right from the start that can, in the best case, offer them prospects beyond their studies. And let's not forget: the salary is very good. If you wish, you can shadow the employees in other departments for a few weeks, for instance. A good thing! Last year, I shadowed the colleagues of the Strategy & Innovation department for one week.
What advantages do you see in working at ALDI SOUTH IT compared to other companies?
Wladi: What I personally like most is the fact that everyone can relate to the company ALDI SOUTH. You simply know ALDI SOUTH – and you associate certain things with it. ALDI SOUTH is a renowned traditional company that has its sights set on the future more than ever. The good thing is that everything that IT develops here in its offices sooner or later has a direct or indirect impact on the customers' shopping experience. ALDI SOUTH uses state-of-the-art technologies and innovative solutions in every area. But it's not just about projects and tech, it's also about spirit. There is a relaxed culture in every area of the company; even so relaxed that we are consistently on first-name terms right up to the CEO.
How would you describe ALDI SOUTH as an employer to your friends?
Wladi: Modern, future-oriented, agile. A company that is worth working for. You learn many new things; especially because everyone makes an effort to share their knowledge and experience. The atmosphere and the colleagues are really great.
What career goals do you have and how does ALDI SOUTH support you in achieving them?
Wladi: First of all, I want to successfully complete my Bachelor's degree and then I would like to continue working for ALDI SOUTH because I feel very comfortable here, I have learned a lot and I already know the team very well.
Wladi, thank you very much for the interview and all the best for your dual study programme.