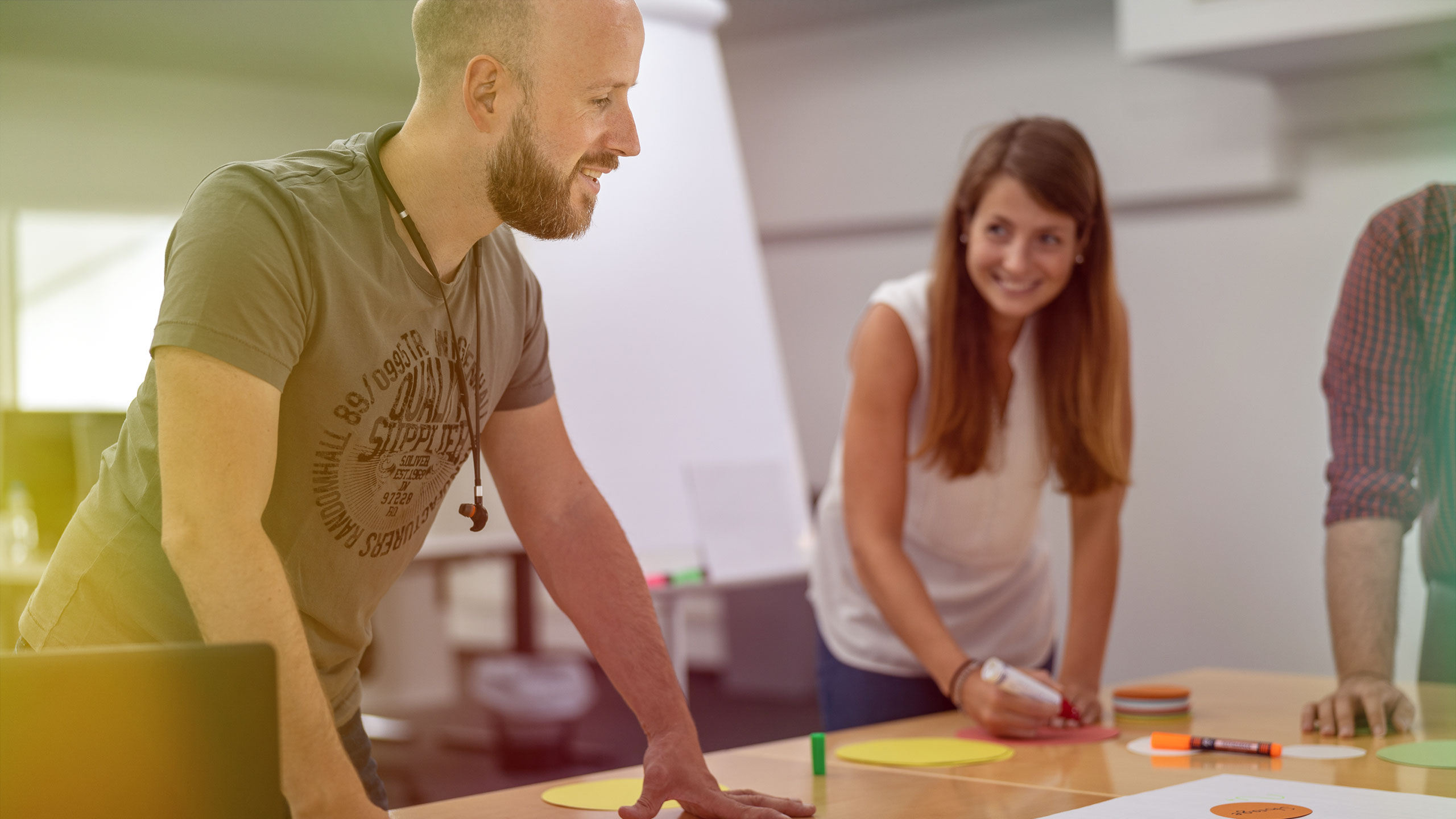 Working at ALDI SOUTH IT: flat hierarchies and international flair
Hardly any other group of companies is currently revising its IT landscape to the same extent as the ALDI SOUTH Group. As our SAP Ariba expert Matthias reports, this does not scare off the employees
Matthias, you have been with ALDI SOUTH since 2013. What comes to your mind when you think back to your first days and weeks?
Matthias: The first thing would be the speedy application process. I applied when I came back to Germany from my job in Canada. From then on, only three weeks passed until my first day at ALDI SOUTH.
And what were your first impressions?
Matthias: What impressed me most were the pleasant atmosphere and the nice colleagues, who convinced me that I had made the right decision. However, I was quite surprised about the state and use of the existing IT solutions. Back then, working with a separate internet PC and outdated technologies was the norm and really quite archaic from an IT point of view ...
Obviously, that didn't scare you off, though...
Matthias: No, not really! Since then, the IT landscape at ALDI SOUTH has undergone major changes. I also know of few companies that have implemented so many fundamental changes over the last seven years. That is why I am still working at ALDI SOUTH today: the company always strives for modernisation and is willing to adapt and improve. You don't see that too often.
What is your job these days, what are you working on?
Matthias: I am currently part of the Tendering and Contracting team and responsible for the SAP Ariba Strategic Sourcing solution. My team is responsible for managing the Sourcing and Contracting modules as well as the SAP S/4HANA integration. This also includes release management as well as process design and consulting in the context of project extensions. And as both the IT department itself and the systems and processes we use are currently undergoing major change, this naturally requires constant coordination with various teams and departments.
So communication is important?
Matthias: Yes, enormously so. The various projects and schedules must also be coordinated with those of other teams, so that they do not end up clashing.
What is the greatest challenge of your job?
Matthias: At present, it consists in the fact that ALDI SOUTH is restructuring its IT system landscape and adjusting the related processes accordingly while at the same time modernising its IT solutions and thus its business processes. This means that many tasks and projects currently need to be implemented or supported, even though many processes are new for all persons involved.
Sounds like quite a job!
Matthias: It is. I have never seen a project of this scope in any company before. To be honest, I am sometimes torn between feeling anxious about all the work coming our way and enthusiastic about how well we master it together, in the end.
So you are not left alone with all the work?
Matthias: No, not at all. ALDI SOUTH really cares about its employees. It is clear that ALDI SOUTH wants to offer their employees as many benefits as possible and motivate them for the massive transformation that the company is undergoing.
With all these tasks, do you still have time for further training?
Matthias: Yes, of course. Due to my work with the different SAP systems, I have attended training sessions on SAP S/4HANA and Ariba as well as the Cloud Portal. I also definitely plan on using the new SAP Learning Hub.
How would you describe the opportunities for professional development?
Matthias: Due to the flat hierarchies and small teams, the development opportunities are quite good. Over time, one can gather experience on a wide variety of topics. By assuming responsibility for projects, you can also acquire expertise in project management and project leadership. The ALDI SOUTH Group also supports its employees through seminars, varied projects and other training opportunities.
Do you like working in Mülheim an der Ruhr? Do you also live here?
Matthias: No, I live in Duisburg, but I have a very pleasant commute. And the office is beautifully located, close to the "city centre" of Mülheim Saarn. During my lunch break, I like to visit one of the many restaurants in the vicinity or take walks along the Ruhr.
Matthias, to sum up our interview, can you describe ALDI SOUTH as an employer in three words?
Matthias: International, flexible and challenging!
Thank you very much for sharing your experiences with us, and all the best for the future!