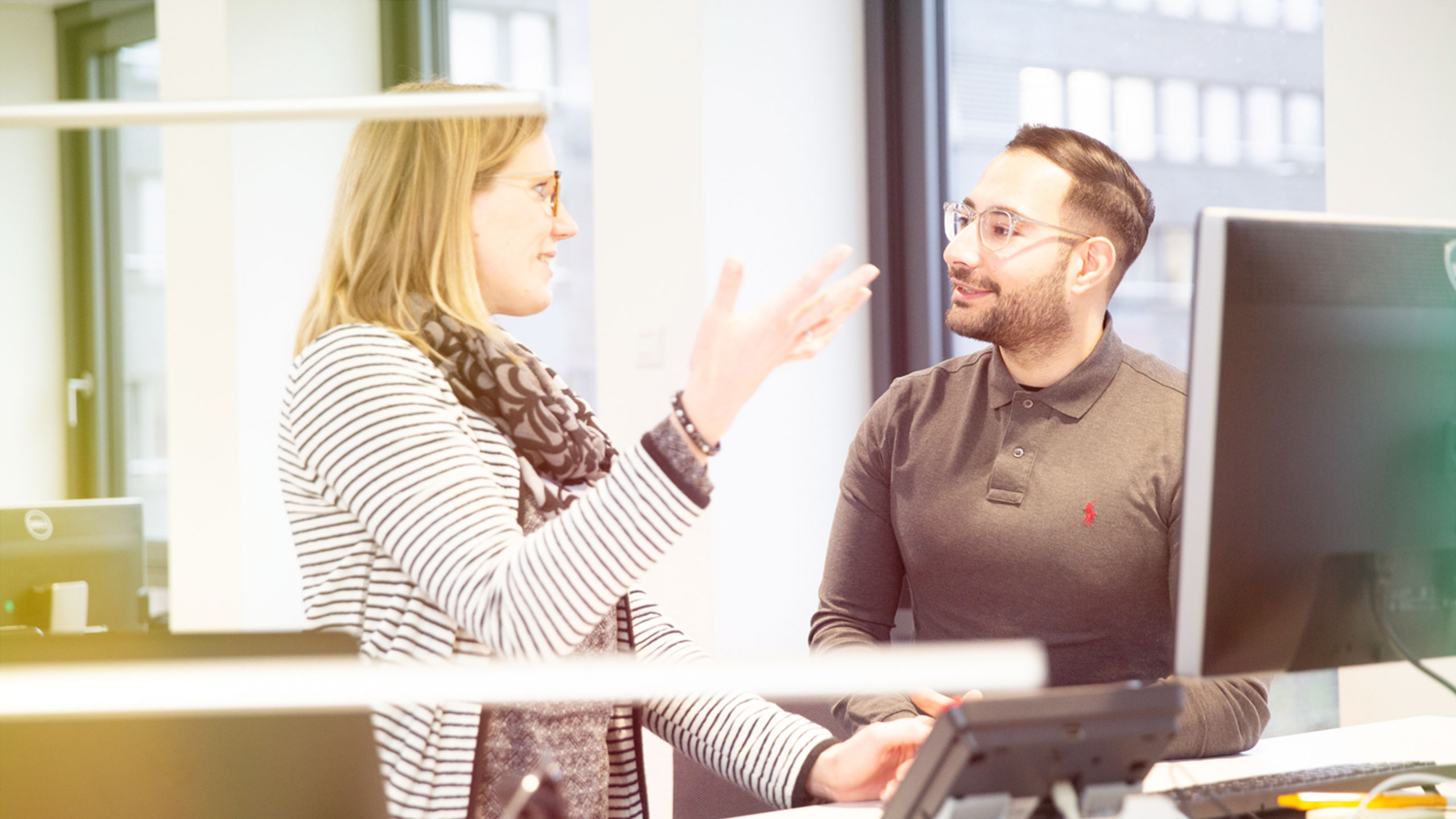 Searching for global and sustainable software solutions
AT ALDI SOUTH, it must be possible to use software solutions worldwide. Oguzhan from the area of Architecture & Integration is trying to achieve this.
Oguzhan, could you briefly tell us about yourself and your professional background?
Oguzhan: Sure. My name is Oguzhan and I'm 27 years old. I completed an apprenticeship as a wholesale and foreign trade specialist during which I worked as an SAP key user in an SAP project. While assuming this role, I noticed that I was very interested in the area of IT. Following completion of my apprenticeship, I worked as an IT consultant in an SAP environment. After working at a large consultancy firm, I started my career at ALDI SOUTH in July 2019.
What exactly is your job at ALDI SOUTH?
Oguzhan: We are currently updating our entire IT landscape and making the transition to state-of-the-art technology. This is a very exciting and huge project. I work as a Business Architect in the Architecture & Integration department and am responsible for the area of Purchasing. Our tasks comprise all software solutions and end-to-end processes, which affect the architecture as a whole. Among other things, the specialist departments draw on our expertise when they wish to introduce new software solutions or need to implement major changes to current software solutions. For example, in the Purchasing area, we decided to introduce SAP S/4HANA and to establish this software as a global ERP solution.
What are the main drivers of this project?
Oguzhan: I would describe the main drivers in three words: digitisation, harmonisation and automation.
We aim to implement future-oriented, sustainable and global software solutions, which – ideally – can be used throughout all ALDI SOUTH countries.
How do you manage to keep up to date?
Oguzhan: In order to be at the cutting edge of technology and be able to provide the specialist department with optimum counsel in terms of sustainable and future-oriented technology, my role requires me to attend international training, workshops and conferences on a regular basis.
Which challenges are you facing within this project?
Oguzhan: In the past, I already worked on many large projects but this here is the largest project that I have ever been part of. We are critically reviewing the entire IT landscape of ALDI SOUTH, each process chain, which is a really challenging task. We are also developing the new IT landscape for ALDI SOUTH at global level. To do so, we closely collaborate with our colleagues from the National IT departments of the individual ALDI SOUTH countries.
To you, what are the most exciting characteristics of this project?
Oguzhan: To me, the most exciting characteristics are the diversity and international spirit. Each week has a different character and I continuously get to know new topics and different colleagues. Usually, I can complete all of these tasks at our International IT office in Mülheim an der Ruhr. However, there are also project phases during which I may carry out tasks on-site in other countries such as Australia, the US or Austria.
Which was the most fascinating place you've ever visited for job-related reasons?
Oguzhan: So far, the most fascinating place has been Chicago, where we compared the national IT architecture of ALDI US with the new project solutions in collaboration with our American colleagues. This enabled us to assess whether or not the new, global IT landscape is compatible with the IT architecture and processes used at ALDI US. For example, we are currently automating the restocking processes for our regional distribution centres and individual stores using SAP S/4HANA in order to simplify and speed up the processes. If we achieve compatibility, our colleagues worldwide will also be able to benefit from this solution.
Another exciting thing during our stay in Chicago was that we went on a private trip to New York, where we spent the entire weekend.
Which of the projects you have contributed to in your career to date at ALDI SOUTH are you particularly proud of?
Oguzhan: I'm proud of being able to contribute to such a large project and that I am allowed to assume a large share of responsibility. This, together with the fact that I am currently completing my Masters degree in IT management on the weekends makes me particularly proud.
What kind of support does ALDI SOUTH provide you with in order to help you successfully complete your Masters degree?
Oguzhan: That's one of the reasons why I made the switch to ALDI SOUTH. Already during the job interview, I was offered support. For example, ALDI SOUTH allows me to work mobile for up to 80 hours each month. I make use of this option in particular on days when I need to attend lectures in order to arrive on time and not to be under time pressure.
How would you describe the IT department at ALDI SOUTH as a whole?
Oguzhan: At ALDI SOUTH, the area of IT is characterised by friendly, international and helpful collaboration. I would describe it as a family-based community – and not only for historical reasons. Generally, we're all on first-name terms from employee level up to the CEO. Right from the very first day, I felt really welcome, my entire onboarding process was absolutely flawless – everything was well structured and organised. I can concentrate on my course of study in addition to my work as I am provided with the required level of flexibility. None of my former employers made any offers similar to those ALDI SOUTH is providing to me. I am therefore really glad that I decided to start working at ALDI SOUTH.