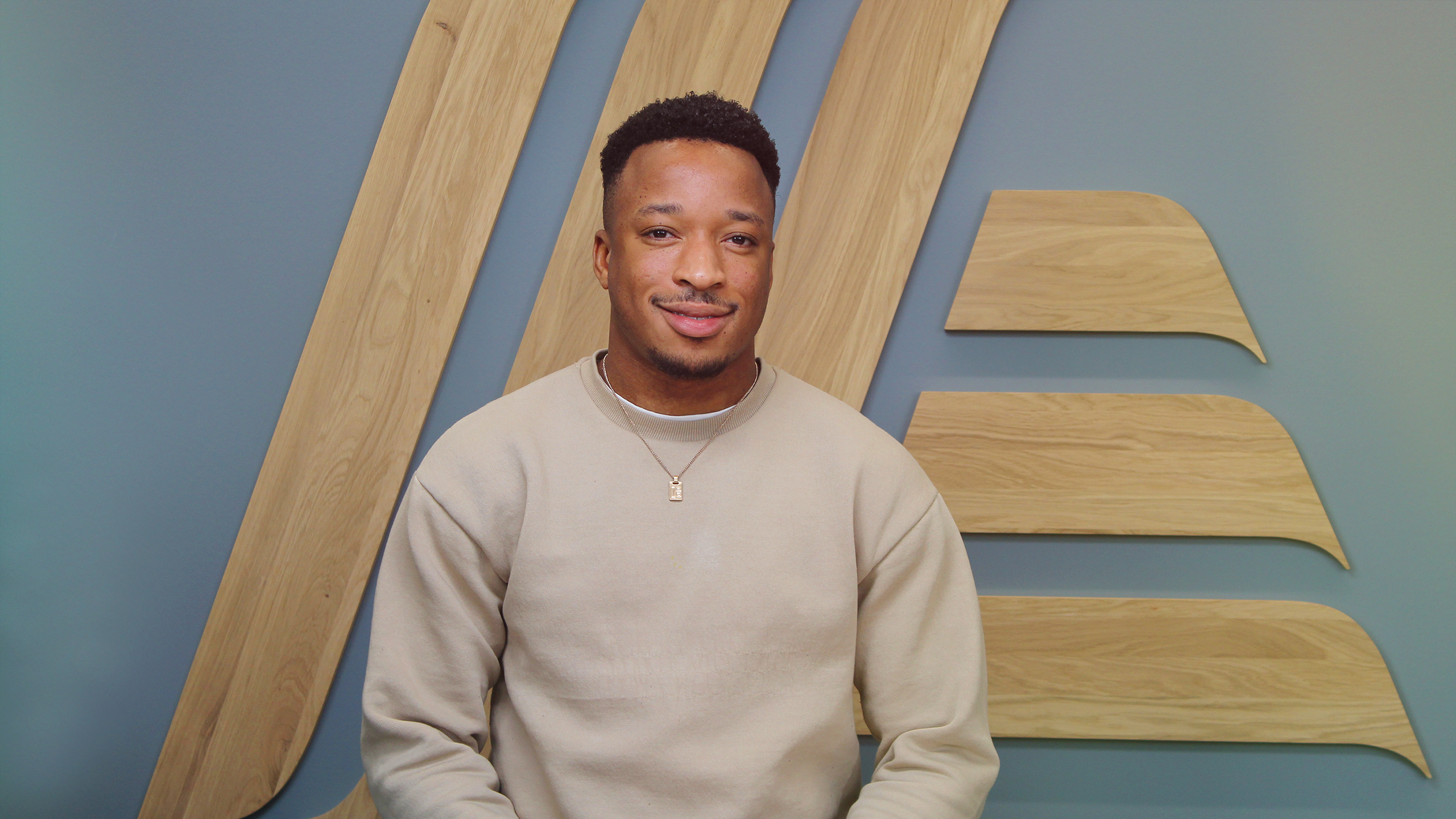 "I am building a product that will ultimately be used by millions of people."
Roland has been working as a Product Owner in our team for 1.5 years. What he enjoys most is working on a product he can relate to. In our interview, he said: "In the grand scheme of things, I am ultimately selling fruit and vegetables online, and I think that's great."
Before you give us an insight into your working day, could you please introduce yourself briefly and tell us how long you've been at ALDI SOUTH IT?
Roland:Hi, my name is Roland Emojevbe. I'm an Economics and Finance graduate, born and raised in London but now living in Düsseldorf. I've been a Product Owner at ALDI SOUTH for 1.5 years, but I also worked for ALDI SOUTH for six months as an external consultant with a previous employer.
What does a typical working day look like for you as a Product Owner – assuming there is such a thing?
Roland:My day starts with daily meetings with some of the other Product Owners to coordinate meetings and other important topics from the day before. Then I have a daily meeting with my product team to see how we are doing in terms of reaching the sprint goals and whether there are any blockers or dependencies to be considered. My team is building the ALDI SOUTH mobile app for ordering groceries online, so a typical day often involves prioritising which features and enhancements within the app are to be built next. My working day also involves incorporating these decisions into user stories and enabling the Business Analysts in the team to take these stories and refine them with the Development team (Designers, Developers, Architects, QA Engineers). A typical day also entails a lot of stakeholder coordination, whether this is speaking with colleagues from countries such as the US or Australia about their needs from our product, or discussing with senior management our go-live plans and our approach for launching the product on the market.
What would you say defines your role as a Product Owner?
Roland:As a Product Owner, I "translate" business, stakeholder and customer needs into more technical requirements. In addition to that, at ALDI SOUTH we also act as a kind of soft lead for the team (no hiring or firing power) as we steer the direction of the product. Product Owners ultimately bridge the gap between product strategy and development and try to maximise the value we create for our end users.
What impact do you want to have at ALDI SOUTH? What drives you and gets you out of bed in the morning?
Roland:I enjoy working on a product I can relate to. In the grand scheme of things, I am ultimately selling fruit and vegetables online, and I think that's great. I am building a product that will ultimately be used by millions of people and working for a company that cares about providing the best quality at low prices. ALDI SOUTH really understands that everyone, regardless of their background or social status, deserves access to great, affordable products.
Can you tell us about a specific project you're working on right now?
Roland:We are currently in the process of launching the new mobile app to ALDI SOUTH in the United States. We started with a smaller throttled approach and are now ramping up the number of users. It was incredible to fly to the US for the go-live, place our own first orders on the app and experience the whole process, as we don't have the opportunity to do that here in Germany.
The world of technology is constantly evolving and changing. How do you keep up to date, and what tools does ALDI SOUTH IT offer to help you with this?
Roland: In a few months' time, I'll be attending a two-day product conference in Hamburg that covers all things digital in this constantly evolving space. It's great that ALDI SOUTH provides us with a training budget to expand our knowledge for a range of activities, such as this one.
What would you say makes ALDI SOUTH IT unique as an employer?
Roland:ALDI SOUTH truly values its employees. For example, there are many opportunities to switch roles internally if people are looking for a new challenge. ALDI SOUTH understands how to keep good people and make compromises to find a solution that works for both the employer and the employees.
What challenges have you faced as part of your normal work here? And what's the most important lesson you've learned so far?
Roland:Working in product development, we want to launch to market as soon as possible so that we can test our product with real users and adapt it based on customer insights. However, the list of desired features for the MVP (minimum viable product) version can at times feel never-ending and a lot of pressure is put on the Product Owners and Development team to deliver this golden list of requirements within a certain time period. As a Product Owner, you really need to find your voice and your ability to say "no". Everyone has an opinion on the product and it's a constant challenge trying to defend and protect our product.
What should anyone looking to start a career as a Product Owner at ALDI SOUTH bring to the table? Are there any candidates for whom ALDI SOUTH might not be the best fit?
Roland:You definitely need great communication skills. Product Owners ultimately take business, stakeholder and customer needs and translate them into requirements so that the development team can build appropriate solutions. A candidate therefore needs to be good at communicating this information to the required parties. You also need to feel comfortable with feeling uncomfortable if you don't have a strong technical background (at least that was the case with me). There are technical experts on the team, so if there are any topics or areas that seem out of your depth, be comfortable with relying on the more experienced experts for support and rest assured that you will improve your knowledge over time. If a candidate is overly shy, to the point where they would not be able to voice genuine concerns about an implementation approach we are taking or actively participate in conversations and meetings related to their area of expertise, then ALDI SOUTH might not be the best option for them. The opposite is also true. If a candidate is overly outspoken to the point that no one else can get a word in, or they are unable to take feedback from others, they also wouldn't be a good fit for us. We work in one team and have a diverse range of personalities, from extroverted to more introverted. We are proud of the fact that we respect one another, celebrate our differences and contribute in the best way we can.
What do you associate with "Reprogram retail"?
Roland: To me, "Reprogram retail" is all about being the change you want to see and shaping the future direction of the industry. My particular part in this is focused on building an incredible, well-received product that is accessible and inclusive to people from all walks of life and abilities.
Thanks for talking to us, Roland!
Help us shape the future of retail: browse through our vacancies and apply now.