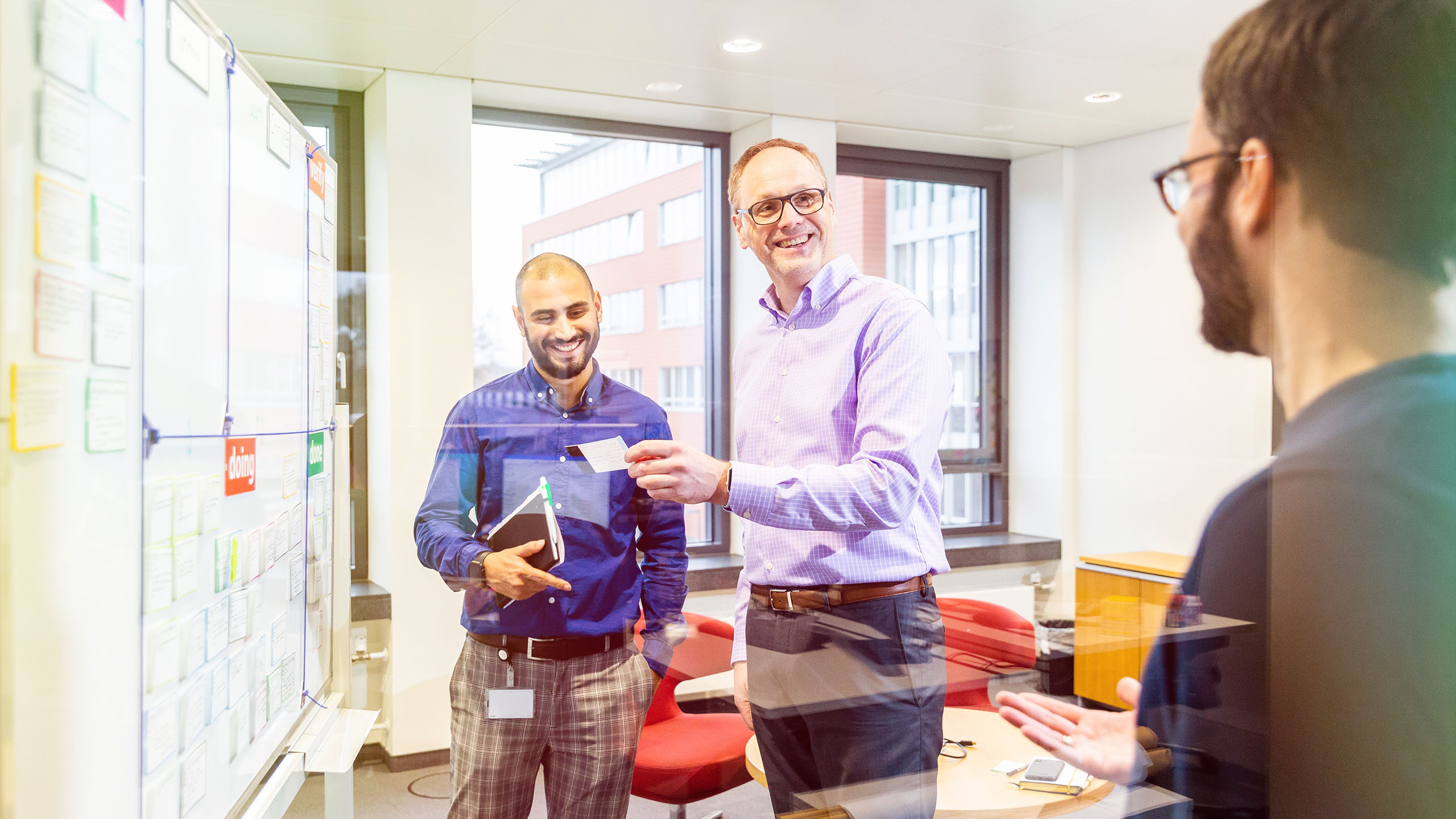 From the top to the bottom – everything here is from one source
If the statics are right, our house will survive any storm. And this is where our "architects" from the IT Architecture team come into play. They lay the foundation for a modern application landscape, establish the framework for optimising our business processes and ensure company-wide integration on several levels. This requires a lot of creativity and personal responsibility. Want to know more?
Master builders with foresight
Our IT Architecture teams offer a great level of freedom to handle digital projects using future-oriented structures.
Your tasks in the area of IT Architecture
We lay the foundation for the future of ALDI SOUTH
Individual responsibility, a great deal of freedom and team spirit – that's what everyday work in the Architecture & Integration team looks like. This is where we pave the way for our company's digital future.
We think ahead – and much further. That's why we at IT Architecture are well aware of the essential importance of future-proof structures. Digital change is never complete, but is developing dynamically.
01 – Business-wide impact
Our teams create the framework for this: a modern and global application landscape that is based on standards but still offers room for flexibility, that reduces silo mentality and further optimises business processes. Today we are laying the foundation for our company's digital future, so that we can also master big data, cloud computing and the internet of things.
02 – Individual and international
As part of our team, you will be responsible for the company-wide integration of our new framework at several levels – from business to IT - in eleven countries. You will have direct influence on the development of ALDI SOUTH, drive new technologies and build aglobal network. Your everyday work is characterised by individual responsibility, a high degree of freedom and strong team spirit.
03 – State-of-the-art technology
To enable you to concentrate on the success of your projects, you will work with modern tools like LeanIX and Signavio, which make your work easier.
04 – Room for your ideas
You like to keep an eye on the big picture and embrace change? Then the IT Architecture team offers you the ideal platform to realise your dreams and make ALDI SOUTH's IT landscape even better.
Our architects turn everything upside down
One of the main tasks of our Architecture & Integration teams is to review existing projects and test their readiness for the future.
Our technology partners share our vision
What our employees have to say