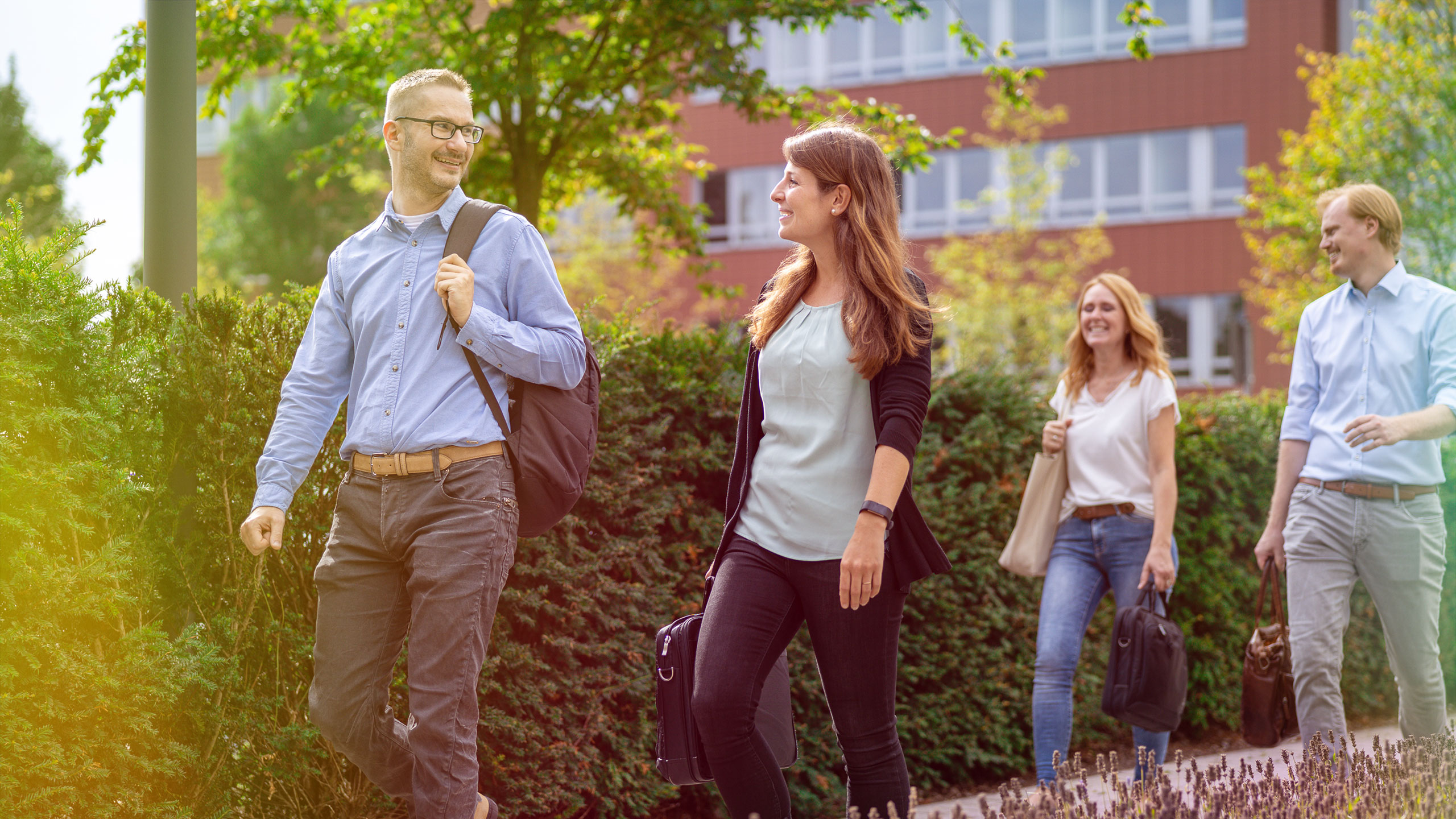 From app to e-commerce – we create fascinating experiences for our customers!
Customer Interaction – as the name suggests, our CI teams are very close to our customers. And as our customers are also increasingly using digital devices, they want to be served accordingly – with apps, websites and social media. And, most importantly: The content must not only be informative, it may also never be boring! That's why the customer experience is our top priority. Do you want to join our team?
Get in touch with our customers
Our Customer Interaction Teams offer plenty of scope for creative solutions. You test, implement and document – and much more.
Working environment CUSTOMER INTERACTION
How we work to optimise our customers' experience
How do customers navigate most comfortably through an app? Where can you find opening hours, videos or recipes? The Customer Interaction Team has the answers to these questions.
We at Customer Interaction always have one thing in mind: the optimal digital customer experience. Worldwide. To achieve this, we are working on solutions based on the latest standard software, including Salesforce, SAP Commerce and Adobe. Our Customer Interaction team not only enjoys working with new technologies for our diverse customer touchpoints in the areas of marketing, customer relationship management, digital presence and e-commerce. It is also firmly rooted within the business.
If you like to travel internationally, for example, you can support the rollout of the Customer Interaction Solutions within our entities abroad. In addition, we are responsible for the continuous development of our global solutions in coordination with all other international entities and for ensuring smooth operations. These are our teams:
01 – Mobile Apps
Fancy mobile apps? Then the Mobile App team is the right place for you. The team makes our content and range of services accessible to the smartphones and tablets of our customers. We are proud that our apps are among the most used digital products in all countries where ALDI SOUTH operates. Our apps are sophisticated, easy to use and provide our customers with optimal support for their daily shopping.
02 – Digital Presence
Are you more at home on a PC or Mac? The Digital Presence team is very close to our customers – with solutions such as the Web Content Management System (WCMS) and the Digital Asset Management System (DAM), we bring the digital content of our business to our customers' browsers worldwide. As part of the Digital Presence team, you'll be there when we work with our external partners and service providers to bring our digital content to life for our customers.
03 – E-commerce
Shopping doesn't just end at the store. Online shopping and shopping via webshops and mobile apps are becoming more and more important. As a member of the eCommerce team, you will be actively involved in the development and operation of our innovative eCommerce landscape. As part of the team, you will design the technical basis for a successful global eCommerce solution and ensure the smooth integration of the solution into the entire ALDI system landscape.
04 – Marketing
Addressing customers optimally, identifying their needs, recognising market changes, creating added value for customers enhancing competitive advantages – we provide all ALDI operations worldwide with the right tools for this job. For all marketing tasks – from (advanced) analytics, real-time personalisation and campaign planning to newsletter distribution and database publishing – you will provide the optimal technical conditions for successful marketing. Our focus is the interaction and integration of the individual solutions.
05 – Customer Relationship Management (CRM)
There's no doubt about it: Customers want to be – and should be – the focus of attention, and that's exactly what they are in the CRM team. Whether it's social media inquiries, concerns of our customers in the store, support in warranty cases or calls to our service desk – our team supports the business with global CRM solutions for building customer relationships across the various channels. To do this, we employ market-leading CRM systems, which you will design and agilely develop in the CRM team together with our development partners.
06 – X-Team
Mobile apps, websites, e-commerce, marketing, customer relation management – it is precisely this interaction that makes our X-Team so appealing. The Cross Team works closely with other departments such as Infrastructure, Security and Stores to optimally integrate all customer interaction solutions. Your exciting tasks in the X-Team include topics such as test management, authorisation and data migration, accompanied by challenges such as the evaluation of security measures and the further development of our DevOps methods. Thanks to our support in all interdisciplinary topics, the business teams can focus on their core tasks.
Become part of the Customer Interaction team and create a unique digital customer experience in a friendly and collaborative atmosphere!
Digitalisation is our life
Our technology partners share our vision
This is what our employees have to say
Top Customer Interaction Jobs