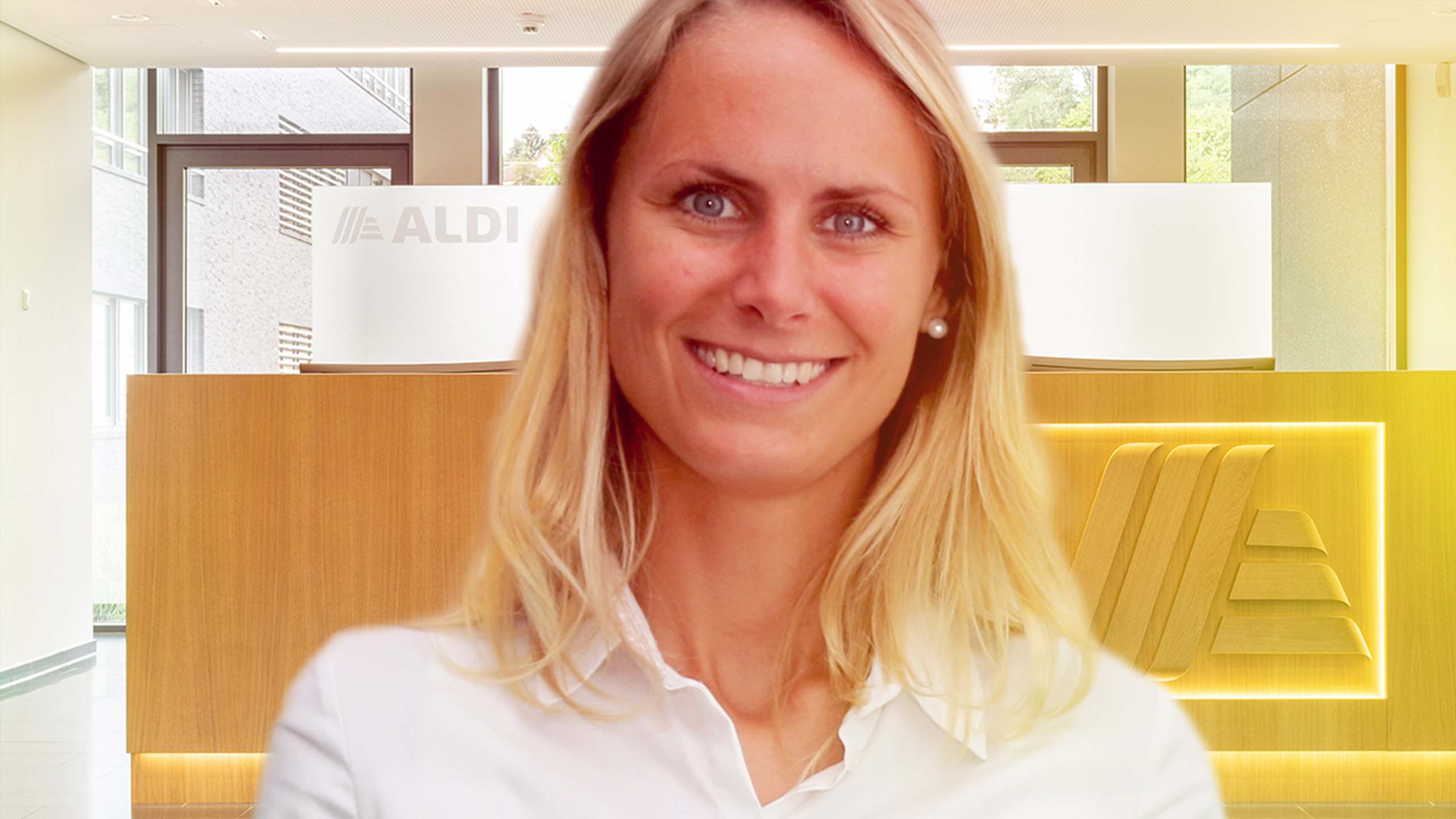 Group Director in her early 30s: an inspiring leadership career in IT
Julia Kassis began her career in the ALDI SOUTH stores in and around Geisenfeld. Today, in her role as Group Director in the Stores business unit, she is responsible for further global development of IT solutions. How Julia Kassis became a role model for women in IT leadership positions ...
You began your ALDI SOUTH career as an Area Manager (AM) – how did your time on the sales floor with direct customer contact contribute to your work today?
Julia: As an AM, you cycle through different store positions: first as a Store Assistant, then as a Deputy Store Manager and finally as a Store Manager. This time had a strong impact on me, as I was able to get to know and appreciate the work in the store from the ground up. As a managerial employee, it is essential to know what your colleagues in the stores do every day. However, during this period I was also able to develop a very good feeling for how the interaction between "IT" and the stores works and what my colleagues in the stores actually need when it comes to IT solutions. But above all, you have in-person interactions with customers. In the process, you learn what they appreciate or perhaps also what we can improve. As an Area Manager, you are simply very close to everything. This continues to benefit me in my daily work even today – because everything we do here in IT is always linked to the goal of making the shopping experience for our customers and the work experience for our employees "out there" as pleasant and efficient as possible.
"I wouldn't want to have missed a single day at the store and I'm proud to be part of a company where every employee spends at least a week working in a store, regardless of their role. It makes us realise why we're doing our best every single day."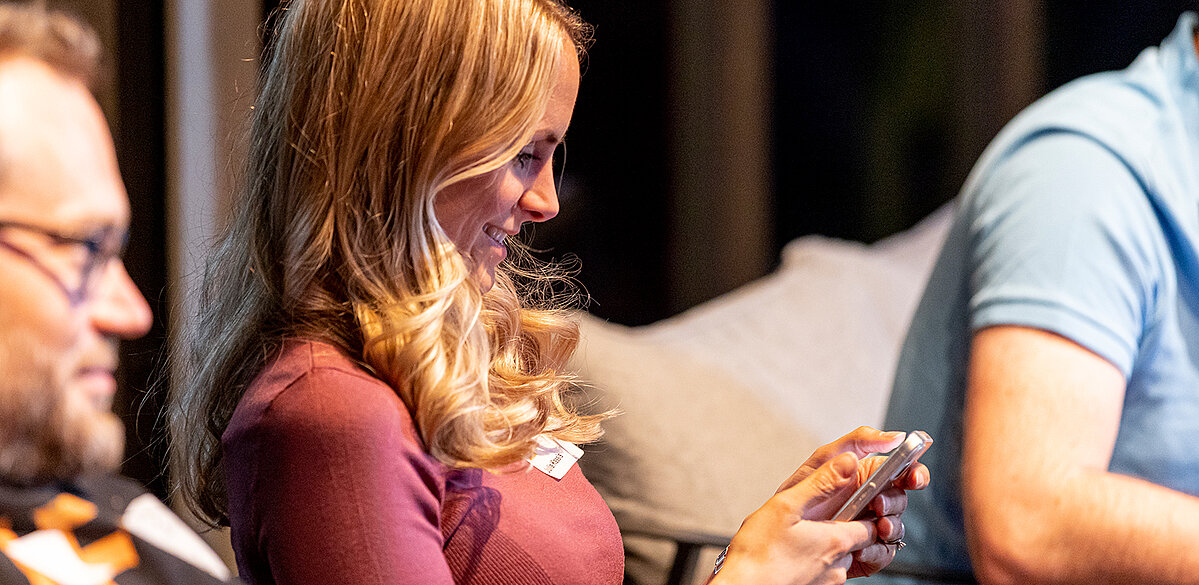 People walking through the store probably don't actively think about how important IT is to it all – but in what ways do you think your IT solutions shape the ALDI SOUTH shopping experience?
Julia: The shopping experience is fundamentally shaped by IT solutions. With a focus on the international Stores business unit, this of course starts at the most visible point – the checkout area. This has become much more than a classic cash register; we are constantly developing it. In many stores, for example, customers can take their time paying by debit card while employees are already scanning the items of the next customer. We now also offer self-service checkouts in many stores. Meanwhile, we are testing checkout via Scan & Go, a process in which the customer scans items using a mobile app, makes payment directly on the go, and then simply leaves the store using QR code authentication. And in England, we have our first "Just walk out" store. Here, customers identify themselves once at the entrance via the app, grab the desired items from the shelves, and leave the store without doing anything else – it's all recorded automatically. But that's just one of many examples. Among other things, we are currently rolling out electronic price cards across the board, which not only makes the work of store employees much easier, but also ensures that the prices are correct at all times.
In your view, are we losing the human touch through the use of technology?
Julia: People are at the centre of everything we do in our daily work. By this I mean both our customers and our colleagues. With our solutions, we improve the shopping experience for our customers and at the same time do everything we can to make it as efficient and simple as possible. To stay with the above example, if customers are satisfied with our checkout options, they come back to shop with us a second time. Who doesn't like for the option of a quick self-service checkout instead of standing with a single item in a slow-moving queue behind a long line of other customers who all have full shopping carts? This is why it's our job to be on the cutting edge and offer our customers and colleagues what they want.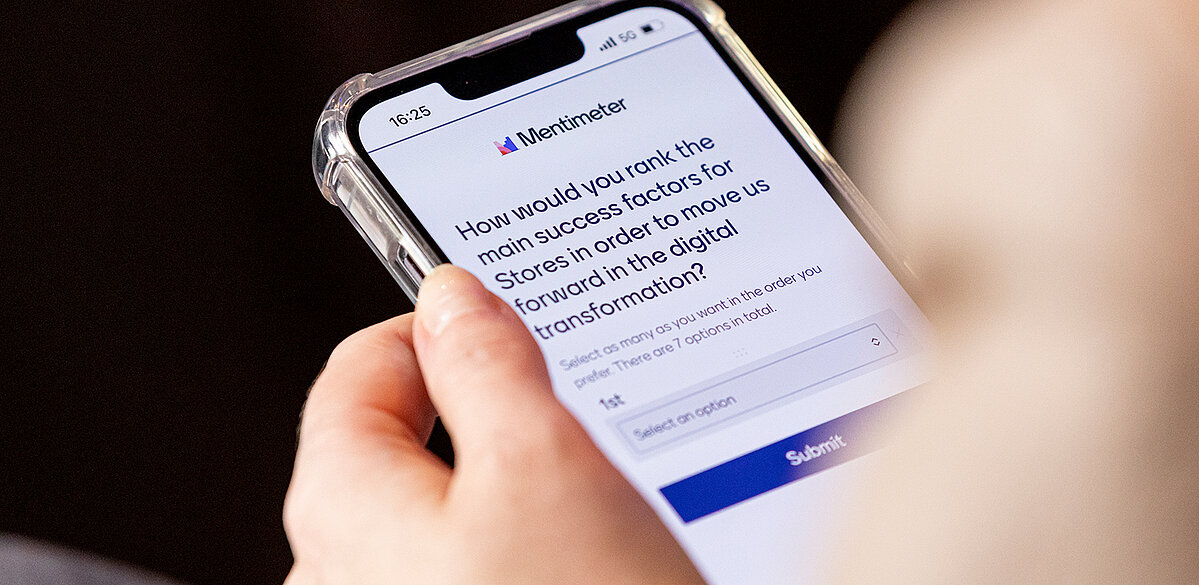 How do our employees benefit from the IT solutions?
Julia: Some of our solutions are designed specifically for our employees and not directly for our customers. A good example is a ToDo app that makes it possible to view at a glance all the tasks that need to be done in one day, and to work through them one by one or to hand them over to the colleagues on the following shift. This simplifies daily planning and streamlines handovers during shift changes. Does this help our employees to save time? Absolutely! However, I am convinced that appropriate innovations also make us a more attractive employer. We are committed to offering our employees appropriate services in order to remain attractive and relevant in the job market.
How do you imagine shopping at ALDI SOUTH in the future? What's your vision?
Julia: We are currently in the midst of a very exciting time in the food retail sector. In addition to various forms of in-store shopping, the offline and online customer experience are also increasingly merging. Customers are already purchasing many of our special buys online. In some ALDI countries, we already offer Click & Collect (buy online and pick up pre-packed purchases at the store) or home delivery of grocery orders. I am convinced that these different channels will become even more intertwined, enabling a seamless shopping experience for customers, i.e. without any interruptions between systems.
"Figuratively speaking, I see our smorgasbord of shopping options becoming more varied and larger – offline, online and everything that combines both. Here, it's our job to keep on top of customer needs – often even one step ahead."
Looking around the industry, a clear picture emerges. A woman in the position of Director: rare. A female Director in the IT industry: even rarer. What was your personal recipe for success in reaching this position? How did ALDI SOUTH support you in this?
Julia: It's simple. I have always enjoyed working at ALDI SOUTH since day one of my career here. An open culture and honest, transparent communication with all colleagues and leaders have contributed to the fact that it is possible to talk openly about not only successes, but also failures and potential for improvement. This has helped me to improve at a personal level. And as a result, we are continuously improving as a group of companies. Because we think in terms of solutions, not problems.
I recognised early on what ALDI SOUTH has to offer me. And that, in addition to the opportunity to take on a lot of responsibility quickly, is first and foremost the fact that you can develop at your own pace. Whether I'm a woman or a man has never played a role. It always was and still is a matter of commitment, performance and ambition. That is what sets ALDI SOUTH apart as an inclusive employer.
How do you maintain a healthy balance between your responsibilities at ALDI SOUTH and your private life?
"A responsible and meaningful work, as well as a happy private life together make a fulfilled life for me."
Julia: I am convinced that, with a modern employer and a degree of flexibility, it is possible to fill a leadership role and have a family life at the same time. I find equal meaning in my work and in my personal life. Thus, both have positive associations for me. In practical terms, of course, it doesn't work without a well-organised network and a partnership that sometimes has to put up with a little more.
How do you motivate other women who want to take on leadership responsibility (in IT)?
Julia: The question why not many more women work in IT has been on my mind for a long time. For me, there is no comprehensible reason why women cannot be successful in IT. On the contrary, I am convinced that a good mix is important and makes us better as a whole. I can therefore only motivate every (hopefully) future colleague to dare to get started in IT. In the future, I would also like to share and discuss on that more often on social networks such as LinkedIn. So take a look at my site and let's inspire men and women to become part of ALDI SOUTH IT.
Thank you for these insights into many years of exciting work!
About Julia Kassis
After completing her master's degree in business administration in 2013, Julia Kassis started as an Area Manager in the Geisenfeld region, covering an area in the Munich metropolitan area. When one of the largest change projects in retail – called ///AHEAD – was announced, she immediately applied for a position on the project team. As one of four Area Managers who represented the business part of the project on a secondment from the Stores business unit, she began an IT career at the end of 2015. A number of projects with international scope were part of her area of responsibility. In October 2018, she was promoted to Director and took on responsibility for training within ///AHEAD. In 2021, she started her most important project: "Family". From April to October 2021, Julia went on parental leave. In November 2021, her return from parental leave was also accompanied by a promotion to Group Director in the Stores business unit.