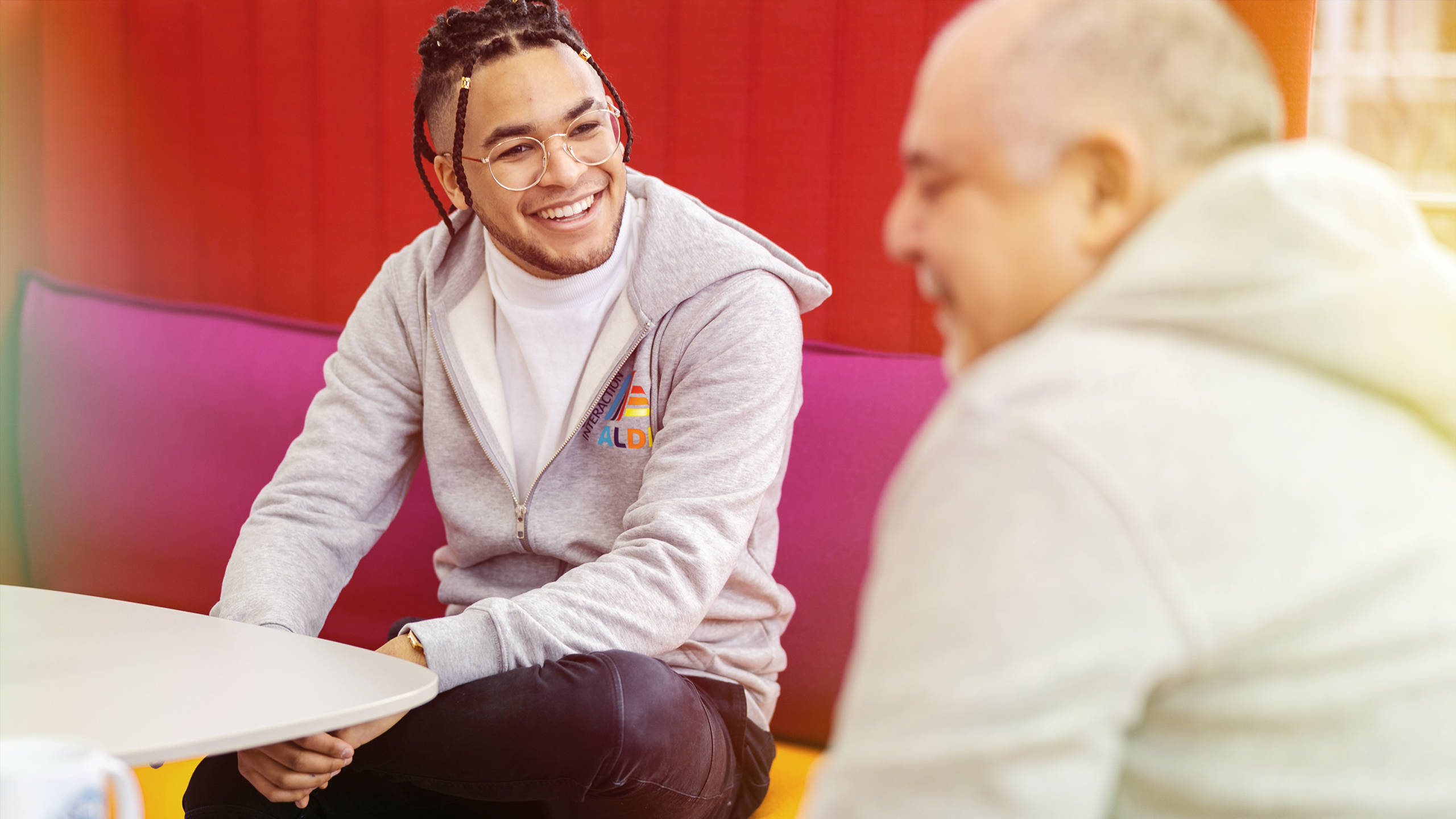 Over the past 50 years, no other company has shaped and implemented the discount retail principle as successfully as ALDI SOUTH. Today, we are a reliable partner for our customers and employees. Not only in Germany, but all over the world: our good quality, good prices and good conditions always make the difference. ALDI – good things for everyone. This wouldn't be possible without modern technology. ALDI SOUTH has developed into a fast-growing, dynamic and versatile employer for more than 2,400 IT specialists. And maybe you'll soon be one of them?
What ALDI SOUTH stands for as a group of companies
For us, it's clear: the overarching principles of the ALDI SOUTH Group are the signposts that guide us as we pursue our goal of becoming even better every day. Simple, responsible, reliable. This is what distinguishes the ALDI SOUTH Group, both then and now. For decades, these principles have helped us to ensure that our customers are satisfied and our employees are happy in every respect. We provide good things for everyone.
Consistency
We want the best value for money for our customers. They know that ALDI SOUTH is where they get top quality products at top prices. It's not just our customers who should be able to enjoy that sense of security: we also want to be a reliable partner for our employees, one that they can always count on.
Simplicity
When our customers go shopping, it should be a straightforward experience. We ensure this through a manageable selection of really good products – and the complex IT structure behind our buying, logistics and POS systems. Innovative structures, efficient solutions, reliable processes and user-friendly systems are all part of our secret to success.
Responsibility
We don't just want our customers to be happy; we also want our 180,000 or so employees around the world to be happy. After all, they're the ones who make ALDI SOUTH a success. Everyone who works here is not just an employee; they are individual people. We support and value each other – and always find a solution. Just like in our IT department!
Working with ALDI SOUTH IT
Working in IT at ALDI SOUTH means one thing above all else: With our tradition behind us we actively shape the future of our group of companies . We do so with a lot of personal responsibility, creativity and foresight. Communication is particularly important to us. We value personal dialogue both within our immediate team and with other colleagues around the world – and together we find fast and efficient solutions. Friendly cooperation across hierarchies is second nature to us. And of course we don't forget to have fun. Be a part of it!
Because where you work does matter!
ALDI SOUTH is not just about projects and tech. Above all, it's about collaboration, team spirit and strengthening and inspiring our employees, and breaking new ground in the process. See for yourself!