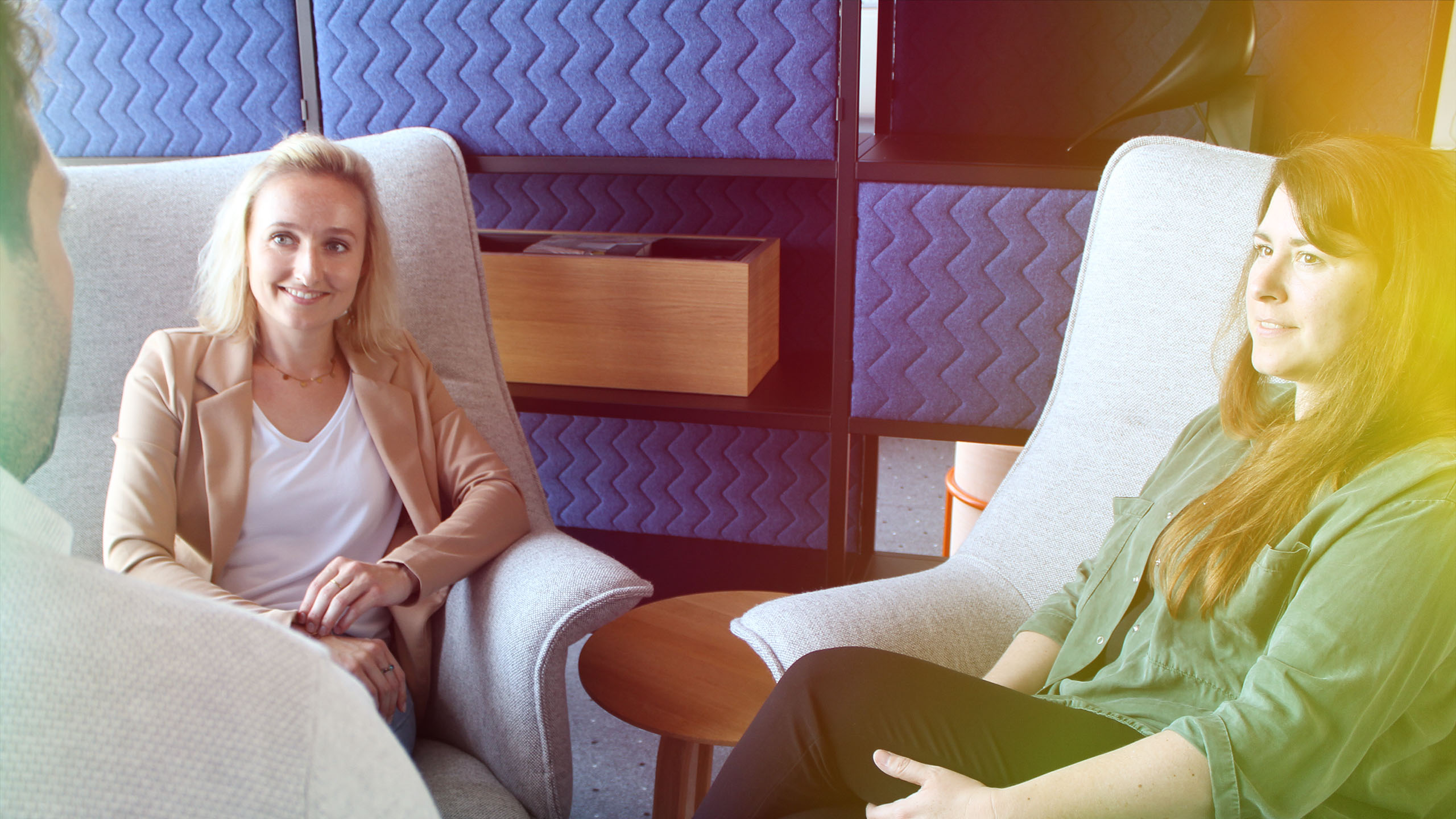 Scrum Master Education Program
"We train Scrum Masters internally and anchor agile knowledge in the organisation"
At ALDI SOUTH, we are no way near the end of our journey when it comes to agile transformation. But we are experiencing a real movement: the agile mindset and an agile way of working are becoming more and more important in our international IT. An example of this is the Scrum Master Education Program (SMEP). We spoke with Carola, one of the organisers, and Natasha, one of the graduates, about how the program works, why it is so important and why the internal agile community is getting bigger and bigger.
Hello, to you both! Please could you briefly introduce yourselves.
Carola: Hi, I'm Carola and I started as a Scrum Master at ALDI SOUTH IT just under three years ago. Now, I work as an Agile Coach in the Agile Center of Excellence (Agile CoE). As a central team, the Agile CoE supports all transformation projects within ALDI SOUTH, including agile coaching, scrum mastery or community and training offers. The Agile CoE is also the team that brought the SMEP to life.
Natascha: And I'm Natascha. I have been here for around seven and a half years. For the most part, I was a personal assistant and the right hand of my former Director – one a half years ago I was looking for a new challenge and change. I then graduated from SMEP and now work as a Scrum Master at ALDI SOUTH IT.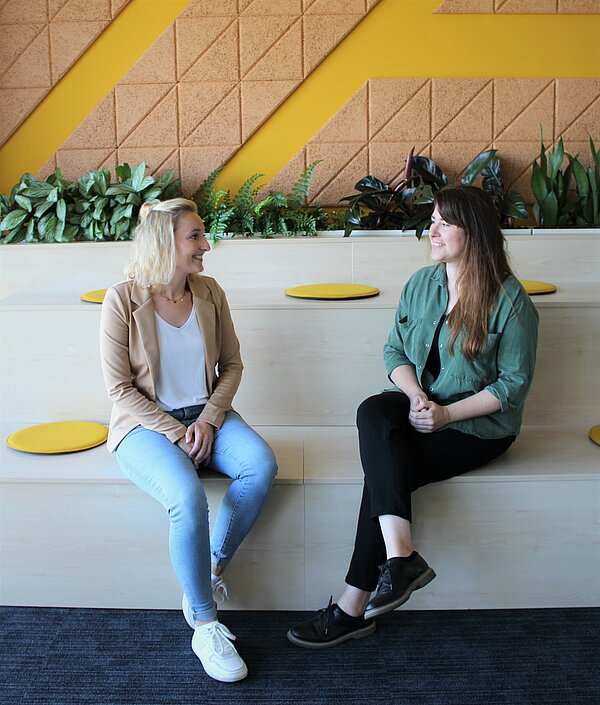 Carola, how was the SMEP established and what is the objective behind it?
Carola: We launched the Scrum Master Education Program around two years ago from the Agile CoE. We have noticed that there is a growing demand for Scrum Masters which we have not always been able to meet. So, we then had the idea to train Scrum Masters internally as well. We have also noticed that time and time again, external staff can support us well in the short term, but once they have completed the project, most of the learning and expertise tends to leave again. The SMEP is our solution for anchoring long-term knowledge and skills relating to agile ways of working within the company. We want to promote talent and build agile knowledge sustainably. Especially when it comes to colleagues, who, like Natascha, are looking for new challenges and want to develop into an agile way of working. Our mission is that we want to be able to successfully introduce agile principles into the product teams ourselves.
That sounds logical. Could you explain more about the structure of the SMEP?
Carola: The SMEP is based on three fundamental pillars: theoretical training, practical application and mentoring. Participants receive theoretical basics through training, self-study and sharing knowledge. In the practical part of the program, they apply what they have learnt directly in Scrum teams. Personal mentors accompany participants and are available to answer questions. This approach makes it possible to experience agility directly in action and to sharpen skills as a Scrum Master.
Natasha: Exactly. A part of the practical training that I found very valuable was shadowing. The aim is to experience the work of a Scrum Master at ALDI SOUTH at first hand and to learn from it. I first joined an existing Scrum Master team as a silent observer and was able to learn a lot from the Scrum Masters. I then put my knowledge into practice and carried out the first daily stand-ups or prepared retrospectives. Learning from internal colleagues and applying their knowledge is what makes the program work.
How and when can you obtain your certificate?
Natascha: During the program, you collect experience points. Once you have reached a certain number, you receive the SMEP certificate, which is handed out by the mentor.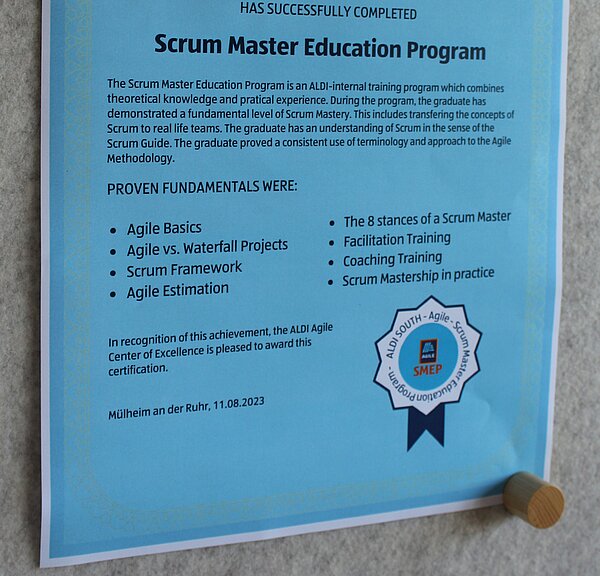 How should we understand the process? Are colleagues then out of daily business for several weeks?
Natascha: No, that's not the case. The focus was on individual discussions with me as an employee. The percentage of my time that I focus on the SMEP, the percentage of time I spend in my "old" job, or the period in which I complete the program, was determined individually. The aim is always to find an optimal solution. Depending on the time available and the level of experience, the program lasts three to six months.
Carola: True. It is important to mention that after communication with line managers, the participants can decide for themselves how working hours are planned, when independent learning takes place and when the practical elements take place. We look very closely at this and want to be as flexible as possible.
Pretty effectively and well thought out. Natascha, what was your experience? How has the program helped you?
Natascha: I started the SMEP around a year and a half ago after my colleagues had mentioned it to me – having conversations with my colleagues about the program was my first initial introduction to it. At the time, I was looking for a new challenge and wanted to develop towards agile ways of working further. I quickly came to realise that the SMEP was just right for me. After completing the program, I am now responsible for two teams as a Scrum Master. The program gave me a new perspective on agile working with a strong IT background. It also allowed me to discover new career paths and develop opportunities in ALDI SOUTH IT that would not have been possible for me without the program.
That sounds like a great experience. Carola, are there any initial indications of how the program will affect agility at ALDI SOUTH in the long term?
Carola: Definitely. Our graduates to date are able to act as Scrum Masters in agile teams and successfully bring the principles of agility to life. This leads to successfully anchoring agile ways of working at ALDI SOUTH. And it goes on: at the moment, eight colleagues are actively in the program. And we are thrilled with the positive response.
Natascha, could you tell us a little about the agile community at ALDI SOUTH?
Natascha: The agile community, which has become even bigger thanks to the previous SMEP graduates, is really valuable. The exchange, discussions and the opportunity to overcome challenges together strengthen our agile community. Everyone appreciates the positive atmosphere where we can learn from and with each other.
Thank you, Carola and Natascha, for these interesting insights!
Help us shape the future of retail: browse through our vacancies and apply now.