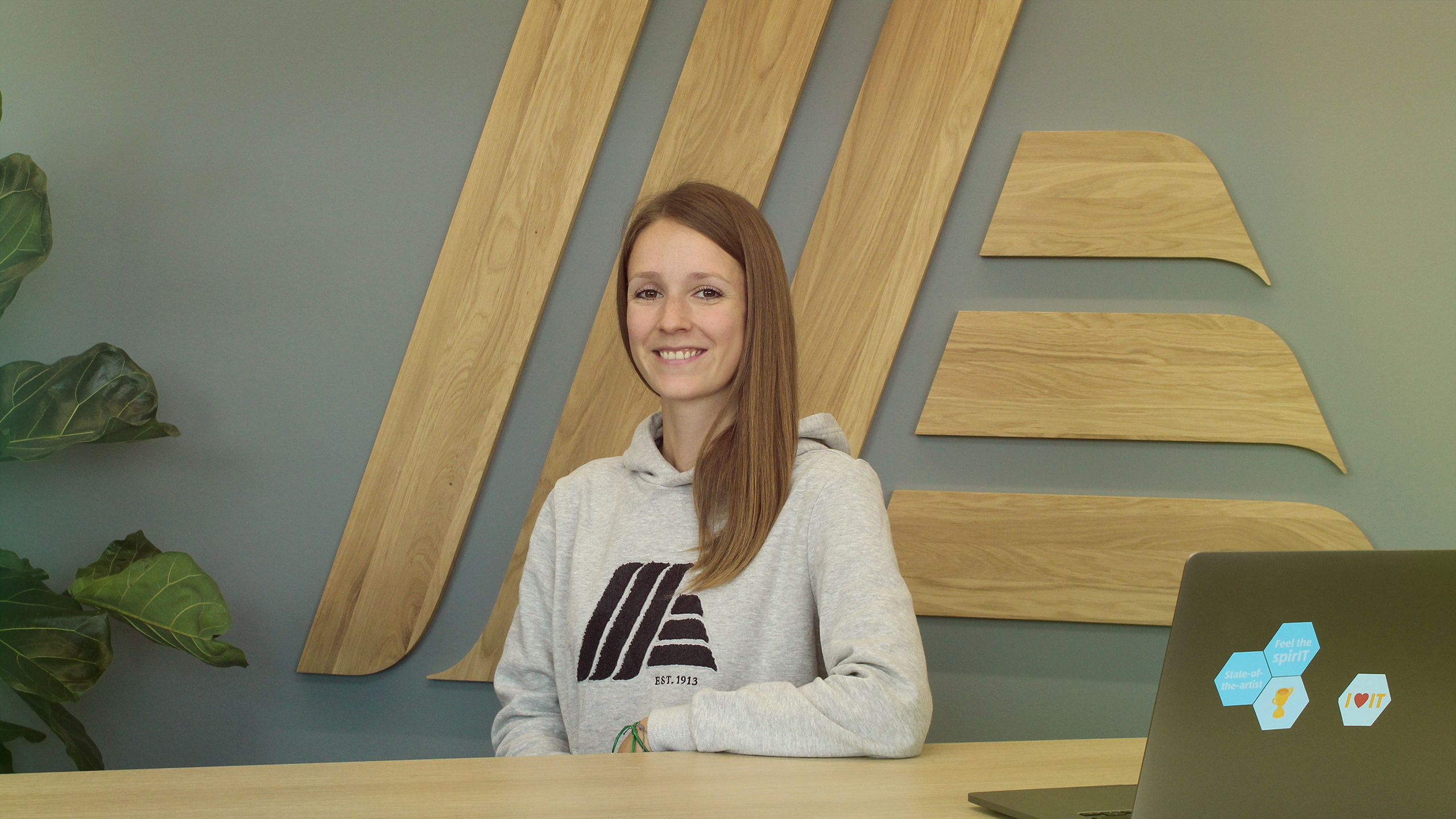 Developer/Architect Sabine
Developer/Architect Sabine
From a Developer to an Architect: Sabine talks about her daily work in IT at ALDI SOUTH
Sabine started working at ALDI SOUTH as a developer. In her current role as an Architect, she has an overall view of our entire system landscape. In this interview, Sabine gives us insights into her daily work and reveals her most exciting IT project at ALDI SOUTH so far.
Before you take us through a day in your job, could you please introduce yourself briefly and tell us how long you've been part of IT at ALDI SOUTH?
Sabine: Hi, I'm Sabine and have been working at ALDI SOUTH since November 2021. I started as an SAP developer in the Integration team, which is part of Customer Interaction. The team ensures that the applications for all our customer experiences are supplied with the correct data. For example, I built the interface in the "Click & Collect" environment that transfers the data for our products from the system to the website. At some point, I started developing an interest in the planning side of things and gained my first insights into the role of an Architect. I found it really interesting and wanted to learn more about this area. Since December last year I've been part of an all-architect team. As a Solution Architect, my main role is to continually develop our existing architectures on the basis of new requirements and, at the same time, provide an overview of the different architectures in each country. This gives us an overall view of the system landscape in the ALDI SOUTH universe. I'm currently working on the rollout of Click & Collect in Australia.
What does a typical work day look like for you as an Architect – if there is such a thing as a typical day?
Sabine: My work days always start in the same way. There is a team coffee meeting at 8am, which takes place remotely. We have a chat and enjoy an easy start to the day. Then we have our Daily Scrum. We discuss what we did yesterday, what is planned for today, any hurdles to be overcome and what progress we have made. This is followed by meetings related to the individual projects. These meetings are not necessarily recurring, which is also a result of our agile way of working. In the Development team, our work was strongly aligned with the agile framework. So there are the classic Scrum Events such as Dailies, Planning, Refinements, Reviews and Retrospectives. As this way of working was originally developed by and for software development, it's more difficult for us architects to stay within this framework. We do work in sprints and have some of the meetings mentioned above but we don't follow the framework as strictly as the developers. There are a few recurring meetings where matters are discussed with other architects and upper management. However, these are more of a decision-making tool and source of information to ensure that all the people in important positions are kept up to date in terms of how the ALDI SOUTH system landscape is developing.
As well as the meetings we do, of course, also perform operational work. I develop concepts for solving problems, which generally involves a lot of research (making contact with colleagues from other departments, brainstorming with my team). I also prepare presentations for meetings, update these afterwards (summarise the results, state the recommended actions) and set follow-up meetings. But, ultimately, we do end up discussing a lot of things again in meetings :-)
What would you say makes your role as Architect special and what did you most enjoy in your previous role as a Developer?
Sabine: As a Developer, I had to be the specialist for a specific area and really know every little detail. I had to "figure out" technical matters as product data, for example, is often very complex. As an Architect, the focus lies more on having a general overview. Yet it's obviously also beneficial that I have deeper technical insights from my previous role as a Developer.
What do you want to achieve at ALDI SOUTH? What drives you, what gets you out of bed in the morning?
Sabine: It motivates me to know that I can really make a difference here and can directly see the impact of my work. For example, I can look at the products on our website and know that everything works because I built the interface behind it. The environment is also very inspiring, as I can genuinely turn to my colleagues at any time and everyone is willing to listen. We learn from one another and grow with our tasks. I can continue to develop at ALDI SOUTH and also receive support in doing so.
What has been your most exciting project so far?
Sabine: I'm currently working on the rollout of Click & Collect in Australia, which is a very exciting project. I've already flown to Australia and worked together with the local IT team there. That was a fascinating experience.
The world of technology is constantly evolving and changing. How do you keep up to date, and what tools does IT at ALDI SOUTH offer to help you with this?
Sabine: Last November, we attended the "SAP Insider" conference in Vienna as a team. We got to see the new technologies and consider which ones could be useful for us. Such conferences are naturally good opportunities for keeping up to date and networking. I also attend training courses to keep developing my skills. ALDI SOUTH really supports us by providing a training budget. I'm also active on LinkedIn and am always learning new things through groups or books. I've recently discovered podcasts and audio dramas. Most specialist literature is now available in the form of audio books, so I can also learn in my free time, for example while jogging.
What would you say makes IT at ALDI SOUTH unique as an employer? Try and tell us in just three words.
Sabine: Supportive, appreciative, open.
What challenges do you face as part of your everyday work and what has been the biggest thing you've learned so far?
Sabine: I had to learn how to say "no" sometimes. We are responsible for quite a few projects and have a long list of to-dos, so you have to learn how to prioritise. The various people involved all have their own individual timelines and requests that can't always be reconciled with one another. The good news: you always have the full support of the team and line managers if conflict situations arise. Such issues are then quickly resolved.
What tech stack do you work with?
Sabine: I often work with M365 applications such as Outlook, OneNote, PowerPoint, Excel and Teams. The main tool I used as a Developer was the SAP Integration Suite. In my new role as an Architect, it's mostly LeanIX as we use this to create all the diagrams for our architectures.
What should anyone looking to start a career as a Developer or Architect in IT at ALDI SOUTH bring to the table?
Sabine: Our extensive system landscape means that you definitely need a strong sense of initiative and a great deal of willingness to learn. You need to have a lot of perseverance. You should also be willing to tackle problems and actively approach people.
What do you associate with "Reprogram retail"?
Sabine: For me, "Reprogram retail" means that we at ALDI SOUTH never stop growing and developing. Both in terms of the system infrastructure but, of course, also in the stores. It makes me feel proud to know that my work contributes to this, as by implementing new solutions I help to create new things.
Thanks for talking to us, Sabine!
Help us shape the future of retail: browse through our vacancies and apply now.