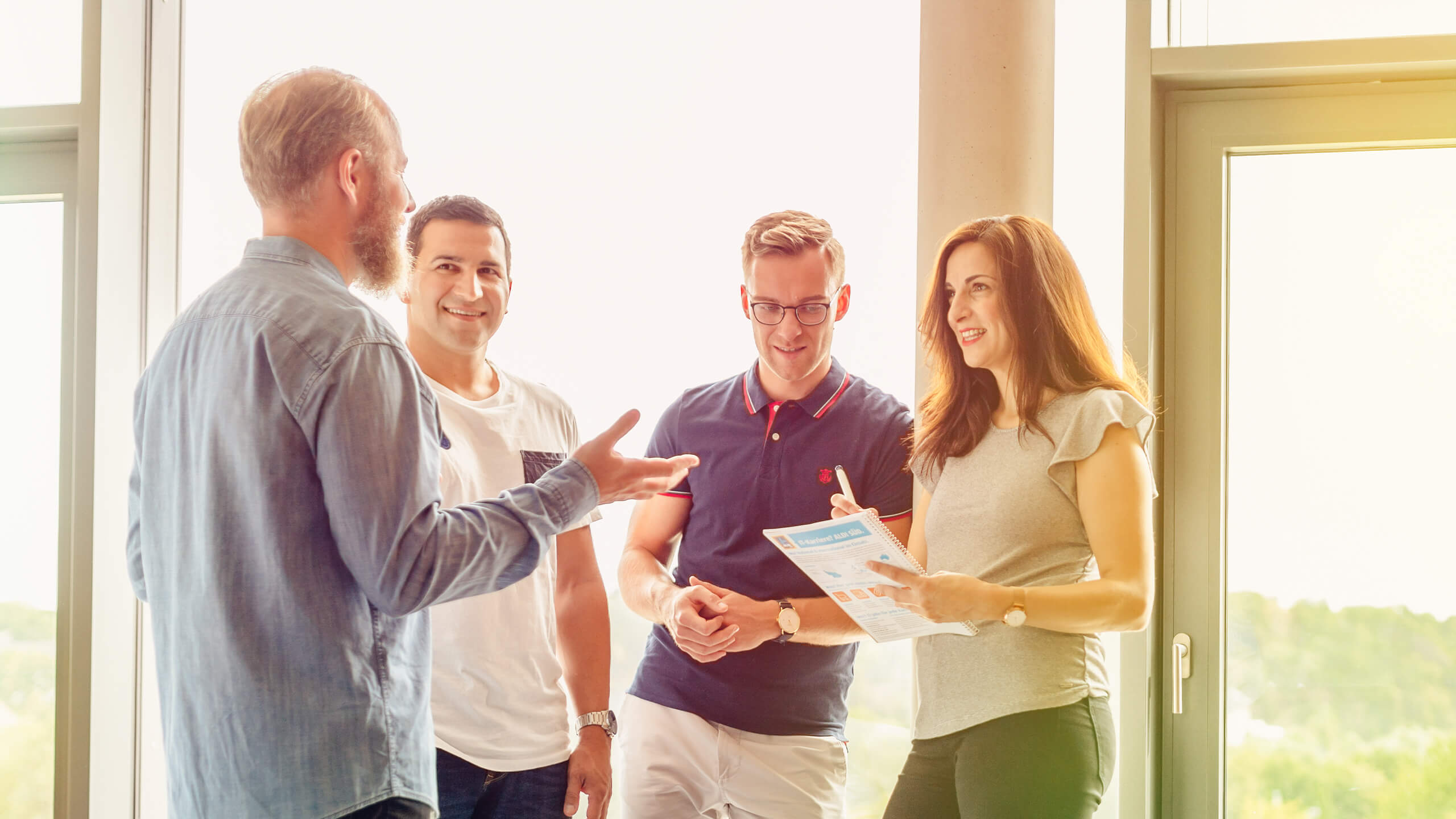 Me, you, him, her – us! Welcome to the world of ALDI SOUTH IT
Over the past 50 years, no other company has shaped and implemented the discount retail principle as successfully as ALDI SOUTH, offering high-quality products at the lowest possible price. Our motto: less is more. We sell only those products that meet the highest quality standards and can be offered at attractive prices – a concept that has often been copied but is still unmatched and that we are justly proud of. ALDI - this is good things for everyone. Today, ALDI SOUTH is a reliable partner for our customers as well as for our employees. You can count on that.
Admittedly, at a discounter you don't think of state-of-the-art IT solutions first. But we at ALDI SOUTH IT take care of exactly that. Within the ALDI SOUTH Group, we are the IT service provider for the core business. Our IT is divided into national and international IT. While the national teams are responsible for all IT processes at the German level, our International IT always comes into play when at least two countries are affected by an IT solution. With 11 countries and over 6,980 branches, there is a lot to do. Learn more about ALDI SOUTH as an IT employer here.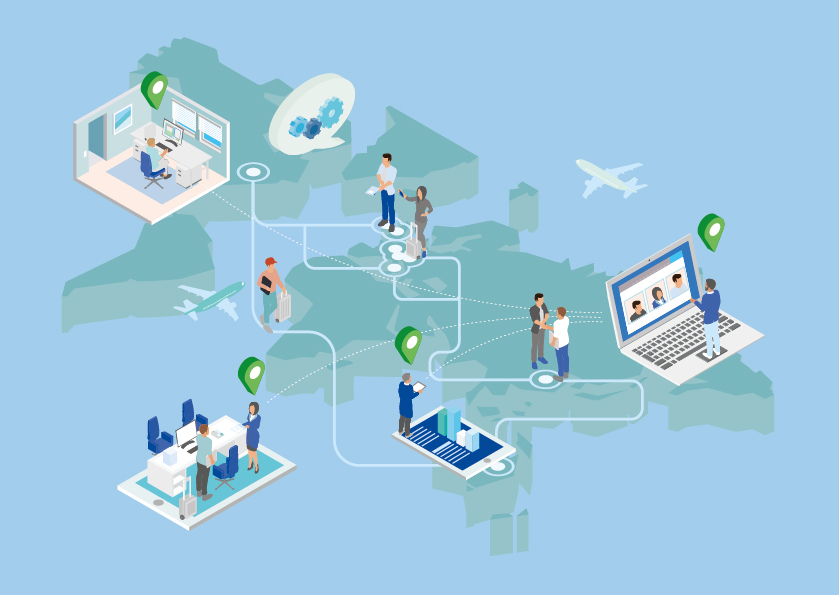 What we stand for – and what we expect
Seven words that mean a lot to us. Seven aspects that are indispensable at ALDI SOUTH IT: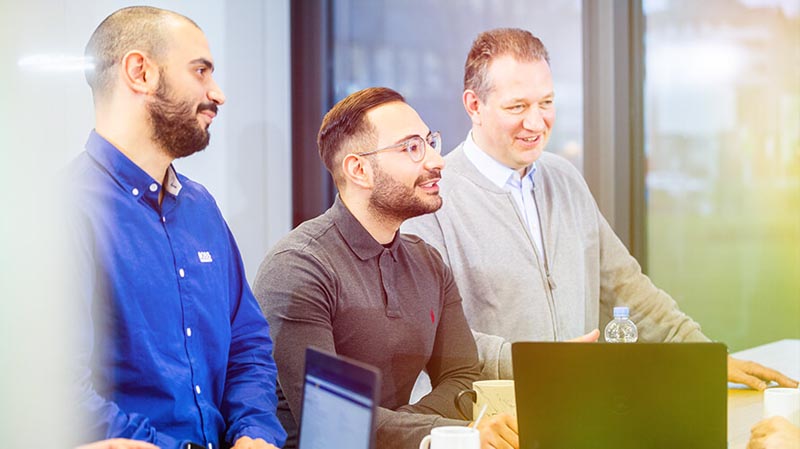 Simple
When our customers go shopping, it should be a straightforward experience. We ensure this by offering a manageable selection of really good products – and an IT organisation that looks after the technological side of buying, logistics and POS systems. Clear structures, efficient solutions, reliable processes and user-friendly systems are all part of our secret to success.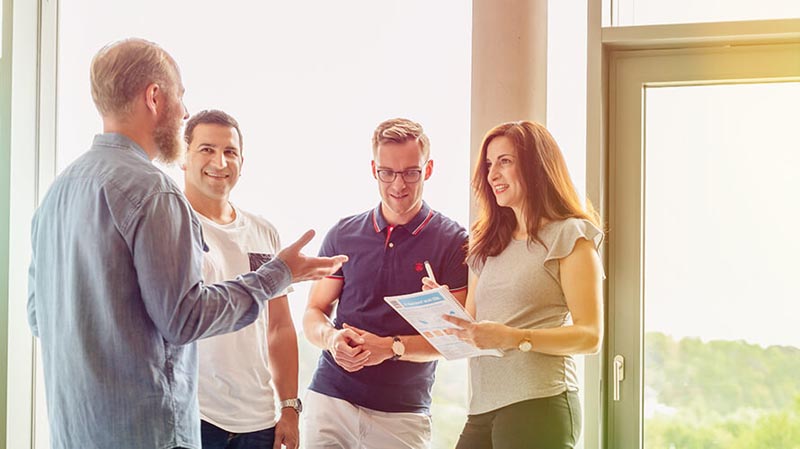 Reliable
We aim to provide the best value for money for our customers. They know that ALDI is where they get top quality products at top prices. And our IT is no different – we are always working to develop and improve our systems.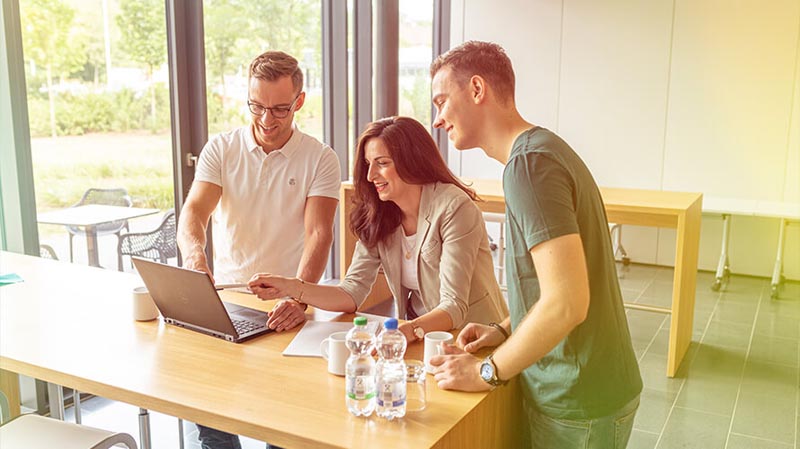 Responsible
We don't just want our customers to be happy, we also want our 47,100 or so employees to be happy. After all, it is they who make ALDI a success. Everyone who works here is not just a member of staff, they are individual people. We support and help one another, and always find a solution. Just like in our IT department!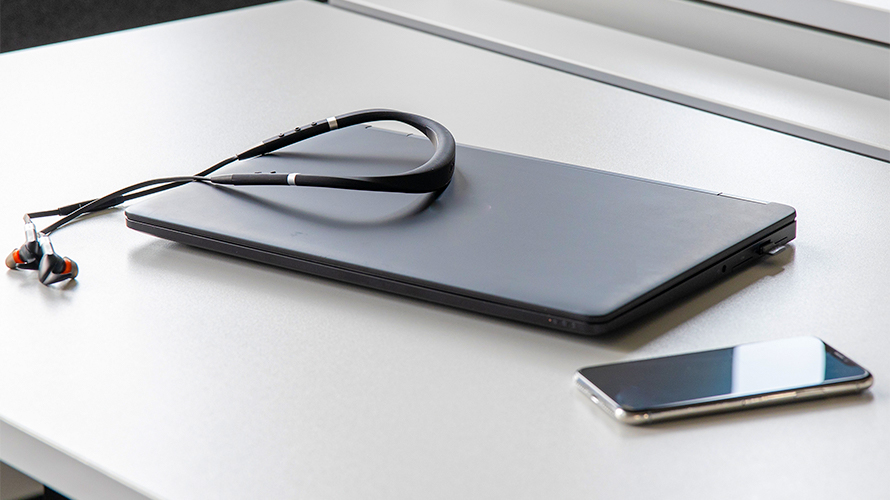 Visionary
Why change something when it works well as it is? This is why! There's always room to make something more user friendly, more interconnected, or more efficient. Our mission is to make the company fit for the future. Our employees play an active role in this!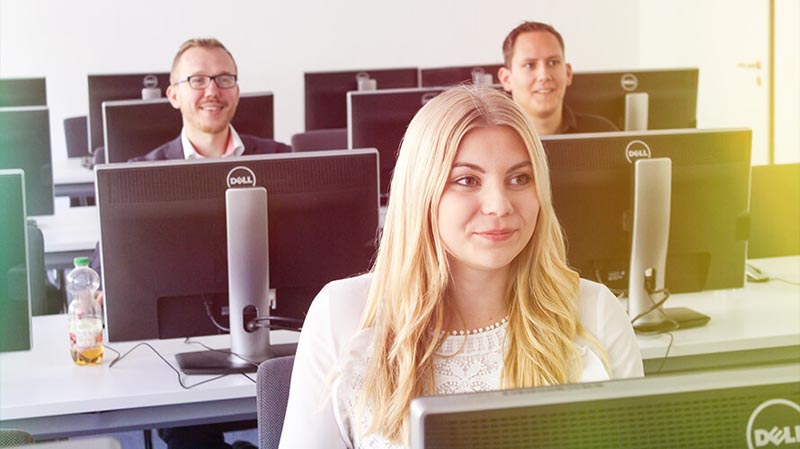 Encouraging
Knowledge is the software of working life – and we make sure your knowledge is up to date. Professional development within the company, further education, career progress: ALDI SOUTH promotes the development of each and every employee along their chosen career path – whether they're an apprentice, career starter, or experienced professional.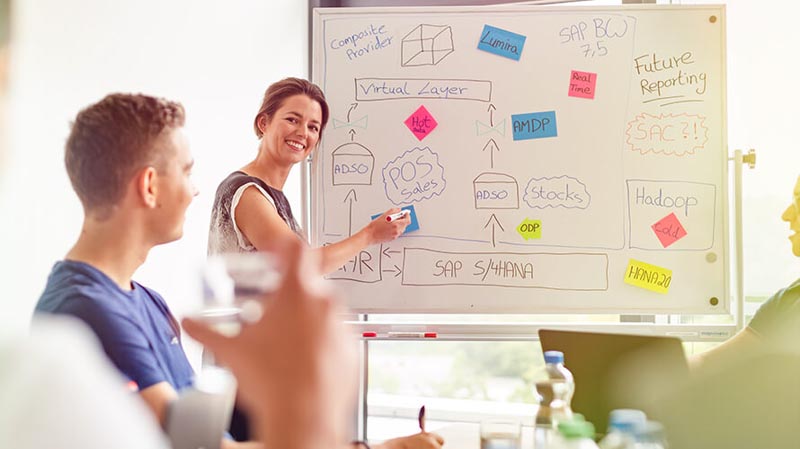 Organised
To ensure that our 6,980 stores in Germany, Europe, Australia and the US stay up and running, we have to be well organised. Clear structures don't just help to optimise processes within the company, they also provide orientation for our IT staff. If everything's ok at the backend, everything's ok at the front end!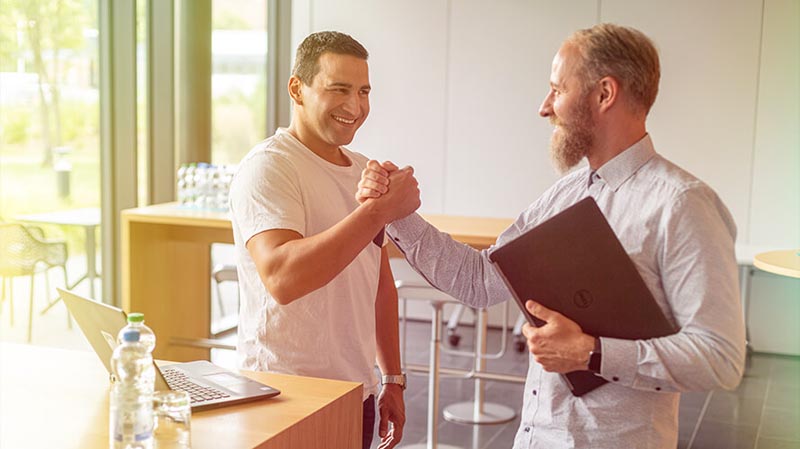 Fair and cooperative
In Germany alone, a large number of employees work on our IT projects every single day. We are not the kind of IT department where everyone sits quietly writing code! Our open-plan offices mean your colleagues and other contacts are much closer than an e-mail away. Going to the kitchen to grab a coffee or a piece of fruit (both of which, incidentally, we provide free of charge to staff), ensures that you don't miss out on the personal contact that us humans need.
Working with ALDI SOUTH IT
Working in IT at ALDI SOUTH means one thing above all else: With our tradition behind us we actively shape the future of our group of companies . We do so with a lot of personal responsibility, creativity and foresight. Communication is particularly important to us. We value personal dialogue both within our immediate team and with other colleagues around the world – and together we find fast and efficient solutions. Friendly cooperation across hierarchies is second nature to us. And of course we don't forget to have fun. Be a part of it!
Because where you work does matter!
At ALDI, it's not only about projects and tech. It's also about collaboration, team spirit and empowering and inspiring our people, breaking new ground in the process. Take a look!
What you can expect from us
From Mülheim to Melbourne – together we are building one of the most modern IT system landscapes in the retail industry. We are happy to invest in this – you can count on that.
Respect
Teamwork means respecting each other and accepting other opinions. This is how we achieve our goals together.
Remuneration
Attractive remuneration in line with the market. In addition, we also offer special benefits such as Christmas and holiday bonuses as well as overtime compensation.
Flexible and mobile working
Flexitime, mobile working within Germany, part-time working – you choose what suits you best. We support you with state-of-the-art technology and equipment for mobile working, such as monitors and headsets
Development opportunities
It's not just all about work. Our ALDI SOUTH ACADEMY offers language courses, seminars and individual training – we enable you to further develop.
Corporate benefits
Benefit from many different discounts offered by our business partners. So why not hit the gym, for example?
Spirit & Collaboration
We are many individuals, but together we are everything. Team spirit drives us to bring our visions to life. What does this mean?
Collegiality - We are more than just colleagues and also enjoy spending our free time together.
Internationality - We operate worldwide – cosmopolitanism is part of our DNA at ALDI SOUTH IT.
Goal orientation - We approach challenges pragmatically and work in a solution-oriented manner.
Independence - Your project, your idea? With us, you can realise both your work-related and personal vision and goals.
Modular onboarding - Individualised and personal –start with us as it fits your personal needs.
Buddy concept - Each newcomer at ALDI SOUTH IT will have their own personal buddy.
Technology & Excitement
Exciting projects and technology, a friendly working climate, international colleagues – take a look at what benefits are in store for you
State-of-the-Art - We work with State-of-the-Art software solutions from business partners such as SAP, Adobe and Salesforce.
Proximity to our customers - We are not sitting in an ivory tower, instead, at ALDI SOUTH IT, we are always close to our customers and to the retail industry.
Internationality - Whether it is about a new regional business entity in China or an app for Australia – we think outside the box.
Excitement - Don't expect boring run-of-the-mill projects from us – we are the bespoke tailors of IT in the retail industry.
Stability & Change
We trust in the tried and tested – and yet we think outside the box. We can only achieve our vision with firm values. Values you can count on.
Family business - Sustainability and caring about future generations are not foreign concepts to us. The same is true for our employees.
Perspective - Our IT department is discovering new international horizons. We are using new technologies systematically and breaking new ground – be part of it!
Well-being and health activities - We want you to feel good about coming to work every day. That's why we take care of your health by providing offers such as a wellness portal, sports activities, health weeks and occupational health checks.
Health and safety - We want you to feel good about coming to work every day. That's why we aim to provide a healthy working environment.
Loyalty - We stand by our hiring decisions. Once you join us, you're part of the team.
3D office tour
This is how we work at ALDI SOUTH IT – have a look around our offices
Flexible work environment in our International IT
FutureWork – that is our common understanding of our hybrid working world. Click through the questions and find out how we work together at International IT.
ALDI SOUTH is carrying out one of the largest IT projects in the company's history
///AHEAD
Digitalisation in retail is in full swing and, naturally, for us this has also created new and exciting opportunities for change. Specifically, this means evaluating all our existing processes and systems and redeveloping them where appropriate. This is a mammoth task facing our International IT within the framework of the ///AHEAD project. Obviously, a project of this size involves many exciting initiatives where you, as a part of something truly great, can come into play.