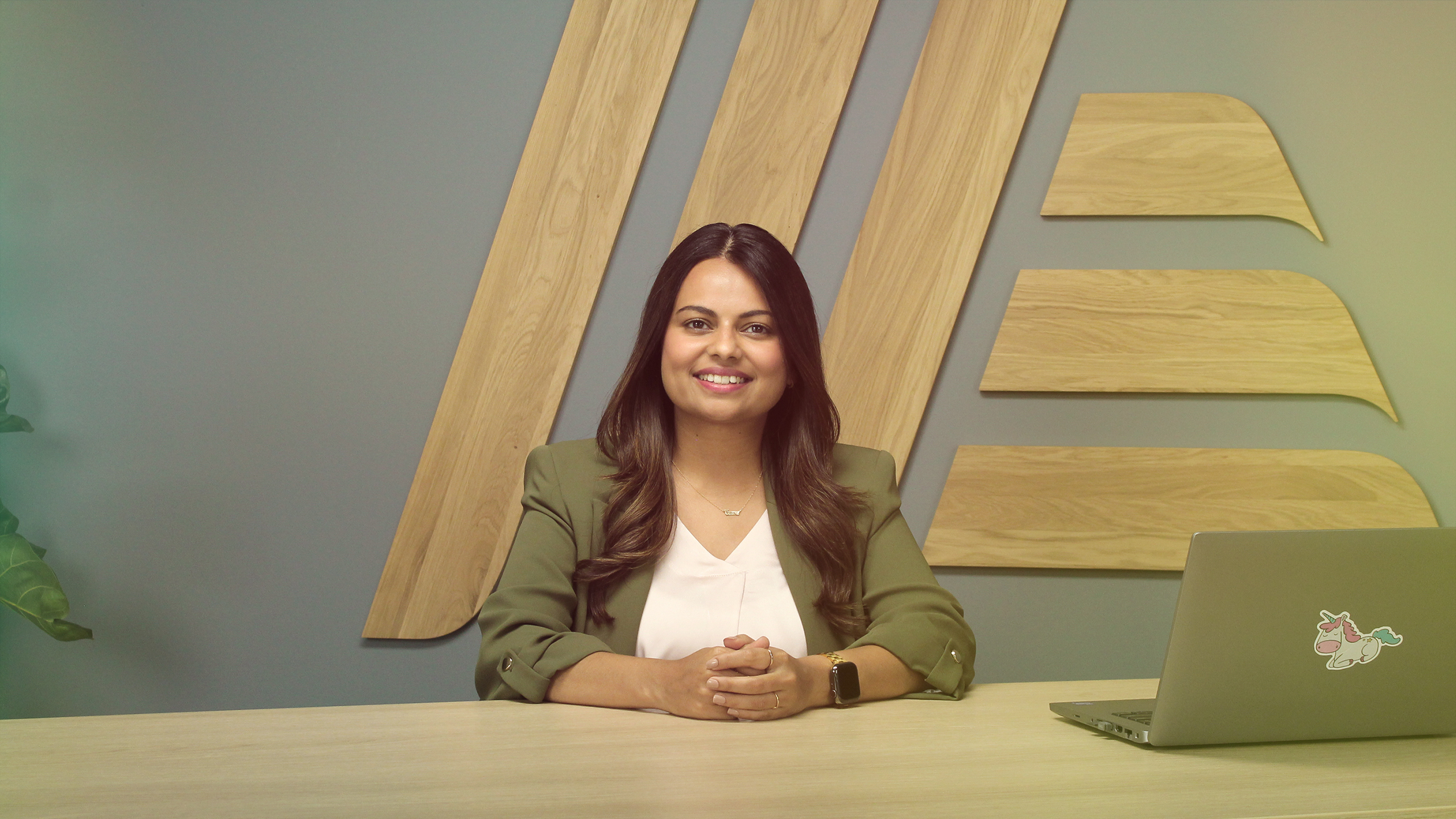 "ALDI SOUTH taught me it's never too late to learn new skills"
Esha has been working as an Engineer in our Data & Analytics unit for two years and is currently also working as a Deployment Manager Business. In our interview, she reveals which project she is working on right now, how she keeps up to date in the fast-evolving world of technology and what tools ALDI SOUTH offers to help her with this.
Before you give us an insight into your working day, could you please introduce yourself briefly and tell us how long you've been at ALDI SOUTH?
Esha: Hello, I am Esha Nigudkar and have been working as an Engineer at ALDI SOUTH for two years. I also currently work as a Deployment Manager for business in our ///AHEAD project within our Data & Analytics unit.
What does a typical working day entail? Please give us an example of what your daily schedule might look like.
Esha: One of the interesting things about working in the ///AHEAD project is that there is no such thing as a "typical working day" or routine. One day, you could have a meeting with Australia at 7am and another day at 6pm with the team from the US. My work involves a lot of stakeholder management. So, it's both challenging and exhilarating to be in a room full of extremely talented and knowledgeable senior management members who not only value my opinion, but also appreciate my inputs and ideas.
In the ///AHEAD project, my day is about aligning with the country stakeholders, collaborating closely with the Service Integrator, designing solutions, and a few quick coffee breaks with my colleagues.
What would you say defines your role as an Engineer or Deployment Manager?
Esha: My role could be defined as techno-business, as it helps in bridging the gap between IT and business. It includes a lot of alignment with business experts, managing the demands of the countries, change management activities and utilising my 10 years of IT and data knowledge to convert business demands into working solutions.
You work for our new Data & Analytics unit: what drives you and gets you out of bed in the morning?
Esha: I am really excited to be part of something completely new, a company with a lot of potential, people with great ideas and an inclusive work culture. Since we are a small but growing community, all our ideas have a much bigger impact and, in addition to that, the management vision for the Data & Analytics unit is what drives me to do my best and be an impactful part of this community.
Can you tell us about a specific project you're working on right now? What has been your most exciting project so far?
Esha: I am working on the ///AHEAD project and this has been the most exciting part of my ALDI SOUTH journey so far. The project is particularly special for me because of the team I am working with, I always enjoy the brainstorming sessions in our project. We work collaboratively, where we inspire each other to create great ideas and build something new using innovative approaches. ALDI SOUTH has taught me it's never too late to learn new skills.
The world of technology is constantly evolving and changing. How do you keep up-to-date and what tools does ALDI SOUTH offer to help you with this?
Esha: This is a nice question and something I am quite passionate about. When I joined ALDI SOUTH, I was very excited to learn that I can choose and enroll in any training programmes that are related or unrelated to my area of work. ALDI SOUTH provides us with a training budget for this. So far, I have been able to take part in two very important training courses which have not only diversified my technical knowledge, but also provided me with the confidence to stay relevant and keep my skill set up-to-date.
What would you say makes ALDI SOUTH unique as an employer? Try and tell us in just five words.
Esha: Flexibility, work-life balance, stability, career prospects and leadership support.
What challenges have you faced as part of your normal work here and how do you go about overcoming them – either alone or together with your team?
Esha: The most challenging part is the multi-vendor support and managing the countries' expectations. As we know, ///AHEAD receives a lot of attention from management, which sometimes raises the expectations of the countries in terms of what can be delivered. So far, we have been successful in achieving this balance with the support of our Service Integrator, management and a very talented core team, we hope that this will continue in the future.
What tech stack do you work with?
Esha: We work with SAP BW/BO, SAP HANA, SAP Analysis for Microsoft Office, for example, and of course tools for dashboards and reporting.
What should anyone looking to start a career in our Data & Analytics unit bring to the table? Are there any candidates for whom this unit might not be the best fit?
Esha: The best thing would be to have a data-driven mindset and a flexible attitude towards a unique ALDI culture. We have a diverse portfolio in terms of technology and with support and guidance from your direct and personnel leader, you can learn and develop new skills whenever desired. If you love to work in a place which prioritises employee well-being, is inclusive and offers you more than the typical nine-to-five job experience, ALDI SOUTH is the place for you.
What do you associate with "Reprogram retail"?
Esha:When I think of "Reprogram retail", I associate it with the idea of adapting and transforming the traditional retail industry to meet the evolving needs and preferences of modern consumers. This may entail implementing new technologies, such as artificial intelligence, data analytics and automation, to improve the efficiency and effectiveness of retail operations. It may also involve developing new business models and strategies, such as omnichannel retailing, personalised shopping experiences, targeted marketing campaigns and sustainable practices. Ultimately, the goal of reprogramming retail is to provide a seamless and enjoyable shopping experience for customers, while also remaining competitive in a rapidly changing retail landscape.
Thanks for talking to us, Esha!
Help us shape the future of retail: browse through our vacancies and apply now.