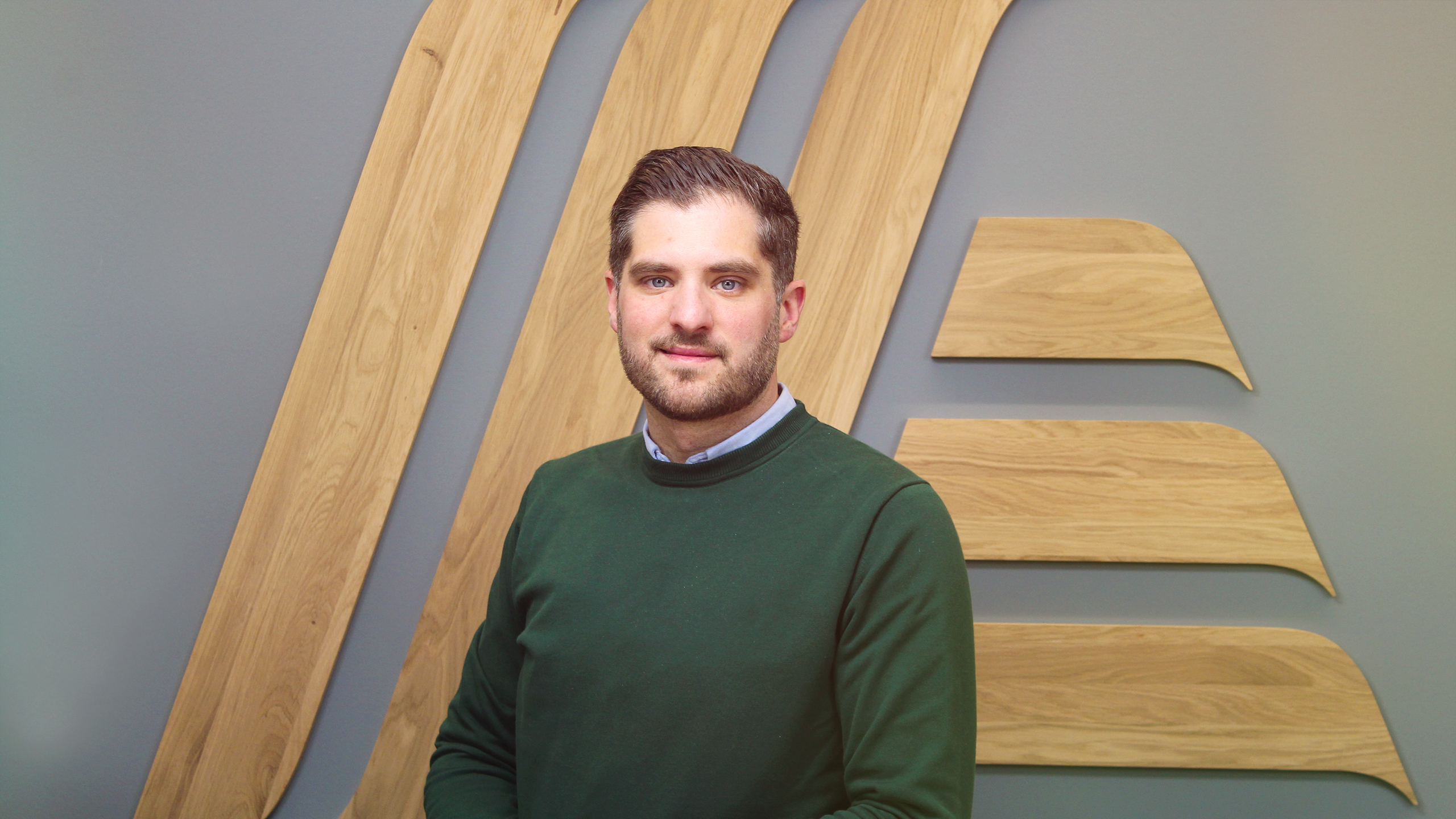 "I make sure that my team can focus on the operational side of things."
As an IT Manager, Stefan leads the SAP Product Integration team at ALDI SOUTH. In this interview, he reveals what the role as a leader entails for him and how he creates a productive working environment for his team.
Before you take us through a day in your job, could you introduce yourself briefly and tell us how long you've been at ALDI SOUTH IT?
Stefan:I'm Stefan and I've worked at ALDI SOUTH since March 2017. I originally worked in the Quality Assurance unit and after 2.5 years I started working in an agile software project as a product owner. In the past, I worked as a software developer, but my plan was always to go into project management, so it was a good fit. I worked in the product owner role for three years, from June 2019 to June 2022. In the middle of last year, I was promoted to IT Manager in the SAP Product Integration team and have been leading the team ever since. One of the things the team is responsible for is a specially developed interface that connects our old software landscape, in which individual solutions were developed exclusively for ALDI SOUTH, with the new landscape developed as part of the AHEAD transformation project. AHEAD is the biggest IT project that has been implemented in our company's history: we are taking a critical look at all previous processes and systems, redesigning them and bringing them together. My team is also responsible for other tasks, since the interface I mentioned will not be needed in the long term. One of the other things we take care of is article-specific interfaces in SAP. If, for example, product data isn't transmitted to a target system, that's where we come into play.
Tell us what a typical work day looks like for you as an IT Manager and as a leader in the SAP Product Integration team – if there is a typical day at all?
Stefan:Every day is different, really, but there are of course some recurring things. I usually start early at around 7am, and check my messages first to see what I can get done straight away and what I can come back to later. Then I get myself a coffee. At 8.30am, we – the IT Managers – have a daily meeting with our Director, who is our line manager, where we discuss the topics that determine our working day. Then, at 8.45am, it's time for the daily meeting with my team. We talk about current topics from the productive environment and whether there are any critical aspects that need to be discussed in more detail. Each person also reports on what they have on their agenda for the day. From 9am, every day is different: I regularly attend meetings on business topics, because even if it's not me as a Manager who has to implement things operationally, it's important that I am informed.
We meet once a week in the office and talk about what's coming up in the next week and any specific challenges we are facing. This often results in follow-up meetings because, if there are any issues, I like to talk to the employees concerned so that we can look for solutions together. In my role, I also see myself to some extent as a problem-solver: I make sure that my team can focus on the operational side of things and I create the right working environment for this. As a Manager, I also deal with issues such as budget, resource planning and coordination with other Managers.
What do you want to achieve at ALDI SOUTH? What drives you, what gets you out of bed in the morning?
Stefan:What fascinates me about working for ALDI SOUTH is that I am able to support such a big group of companies through a major, large-scale transformation. I've seen how ALDI SOUTH has developed over the past six years and I'm impressed by how much has happened and is still happening now. And I'm really pleased to be part of it.
The world of technology is constantly evolving and changing. How do you keep up to date, and what tools does ALDI SOUTH IT offer to help you with this?
Stefan:In my free time, I like to read various IT blogs. In a work environment, I like to use our ALDI SOUTH ACADEMY, which offers a wide range of opportunities for further training. Lots of the training offers also come with a certificate at the end, which is a great advantage.
What would you say makes ALDI SOUTH IT unique as an employer? Try and tell us in just a few words.
Stefan: Internationality, modern technology, advancement, exciting projects.
In day-to-day work, things aren't always perfect: how do you master challenges?
Stefan: I'm quite an easy-going person by nature and I think that also helps me in my day-to-day work. I firmly believe that there is a solution to every problem – but you have to talk about it. Most of the time, you then realise that the solution isn't actually that far away or the problem isn't actually that big.
What should anyone looking to start a career at ALDI SOUTH IT bring to the table? Are there any candidates for whom ALDI SOUTH IT might not be the best fit?
Stefan:You definitely need to be motivated to make a difference, enjoy working with others in an international team, and have a certain degree of flexibility. If that's not something you see yourself being able to do, you might find it difficult at ALDI SOUTH IT, because people who work here take on responsibility for topics in a global context right from the start.
What do you associate with "Reprogram retail"?
Stefan:What I associate with this is that we are in the middle of a huge transformation process, part of which is AHEAD. This gives my team and me an opportunity to help shape the future of ALDI SOUTH and the entire world of retail.
Thanks for talking to us, Stefan!
Help us shape the future of retail: browse through our vacancies and apply now.