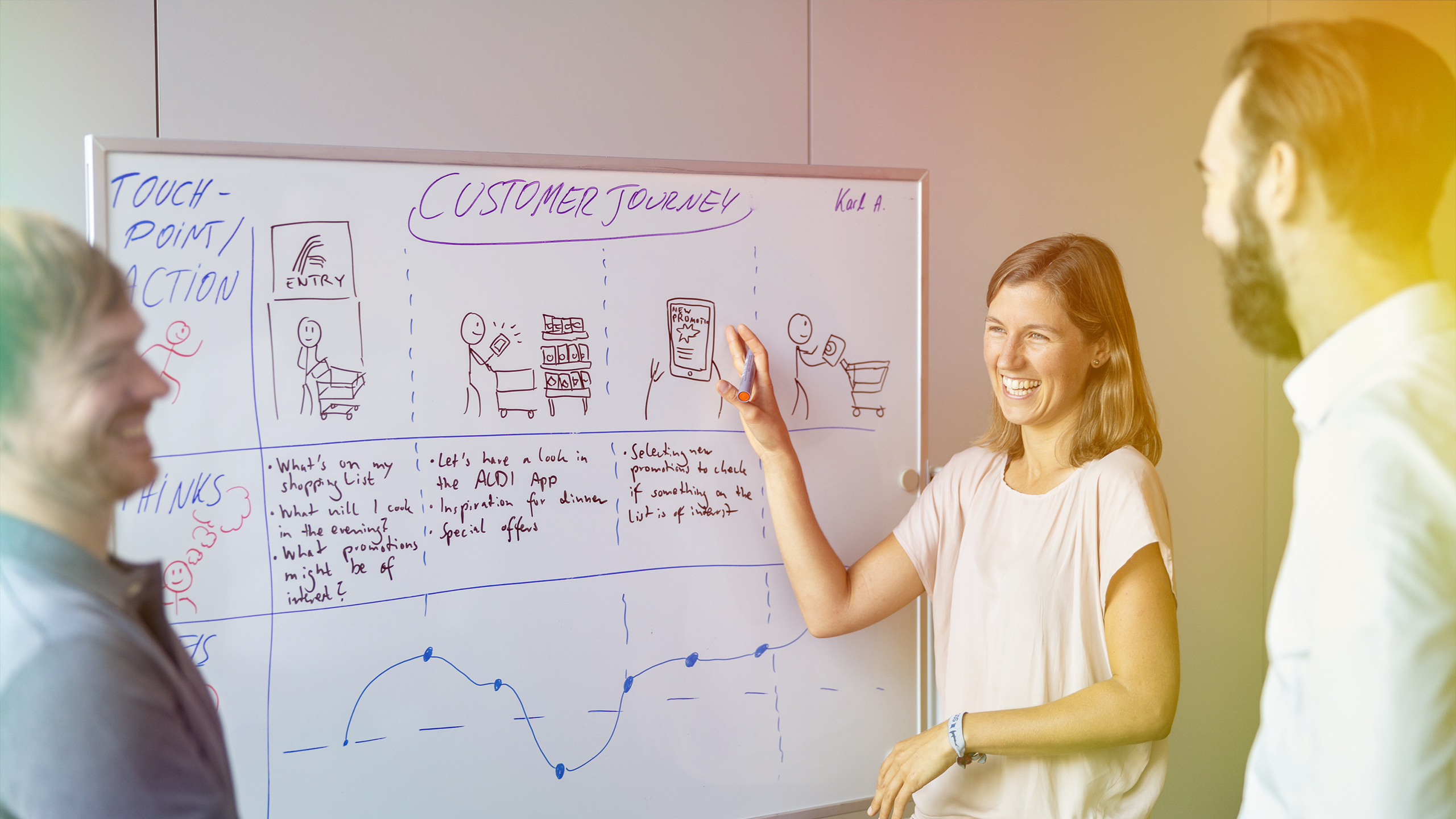 Don't dream of success ... join it!
We are creating a new system landscape that is integrated, standardised and state of the art. In doing so, we are supported by sofware solutions from our partner, SAP. As an SAP Expert, you implement these intelligently and contribute your SAP know-how, so that thousands of people can benefit from highly automated, digitalised supply chain processes.
SAP rollout on a blank slate
As an SAP expert, you play a key role in our future IT strategy. In doing so, you have a major impact on the future direction of ALDI SOUTH IT and are part of one of the largest SAP implementation projects in the retail industry. Creative minds who can use their freedom responsibly are in demand here. Together we can take ALDI SOUTH to the next level of retail. Are you ready? This is what awaits you:
You work in a networked environment
We want to change things and further improve our ways of working throughout the entire business. For this purpose, we are developing global templates. All of our SAP experts and their know-how ensure the perfect design and smooth implementation of these templates. Together with our external service providers on-site, we work hand in hand with colleagues all over the world.
You achieve great things
Our working environment in the area of SAP offers sufficient room for individual responsibility and your personal development. From day one, your own SAP expertise will make its mark. Our SAP experts are tackling something unique: starting with a blank slate, they are implementing a large-scale SAP rollout with SAP standard processes and flagship technologies. That's why our team spirit is strong, and communication is always appreciative.
You realise your own vision and goals
Many exciting projects await you – from software-specific applications to strategic challenges that will have a major impact on the future direction of ALDI SOUTH IT. At the same time, you will experience a high degree of freedom in your daily work and have plenty of room to expand your knowledge through SAP training.
This is how SAP projects, people and processes work at ALDI SOUTH IT
The universe of the SAP landscape can be found in almost all areas at ALDI SOUTH IT – this helps us to simplify and standardise processes.
Because where you work does matter!
As an IT Expert, Liu is responsible for the electronic shelf labels in our stores and their integration with SAP. His greatest skill: getting things done. See for yourself!
Developer of a global template
Our SAP experts have to master many tasks – especially the implementation of innovative software solutions that can be used globally.