Where do people feel valued? We think it's at a job where they can be part of the change. Over the decades, ALDI SOUTH has not only grown to become an established market player in the retail sector, it has also proven to be a stable employer. This secure position enables us to think in new ways and initiate innovative projects. Together, we are challenging the old way of doing things. Not because we have to, but because we want to. Our goal at ALDI SOUTH IT is to start a movement that will make us one of the best data-driven and product-oriented organisations in the international retail industry. You can be part of it! Our movement allows you to make a real contribution at ALDI SOUTH and to continue to develop – no matter which job you choose here.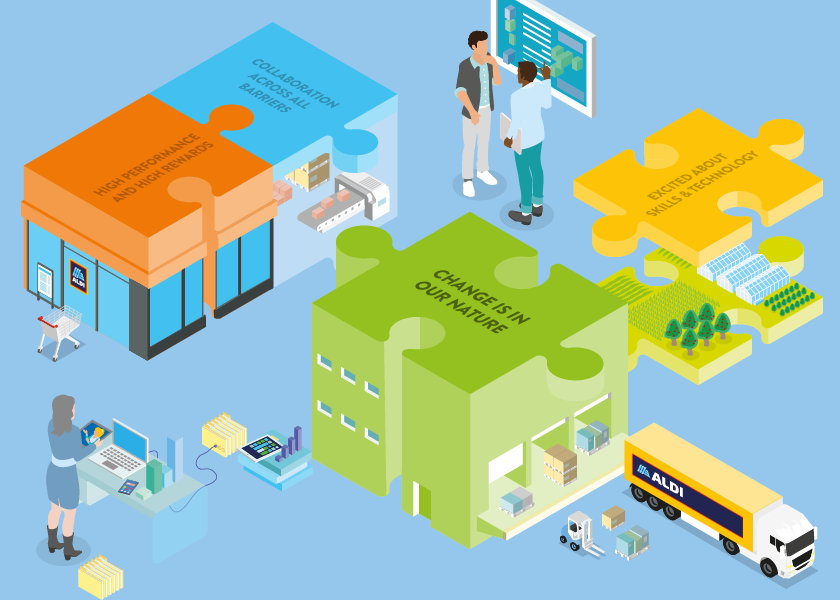 Change at ALDI SOUTH IT
Many projects are characteristic of the ongoing development at ALDI SOUTH IT – here are some we would like to share with you.
Between change and continuity
We trust in the tried and tested – but we are still visionaries. You can get an insight into what helps us to do this here.
Family business
Sustainability and caring about future generations are not foreign concepts to us. The same is true for our employees.
A desire for change
We are challenging the old way of doing things. Not because we have to, but because we can and want to. This allows us to be progressive, fast and dynamic, but remain well structured at the same time.
Prospects
Our IT department is growing internationally! We are using state-of-the-art technology to break new ground – be part of it!
Loyalty
We like change, but we also offer security: we stand by our hiring decisions! Once you join us, you're part of the team.
Learn about more of our values